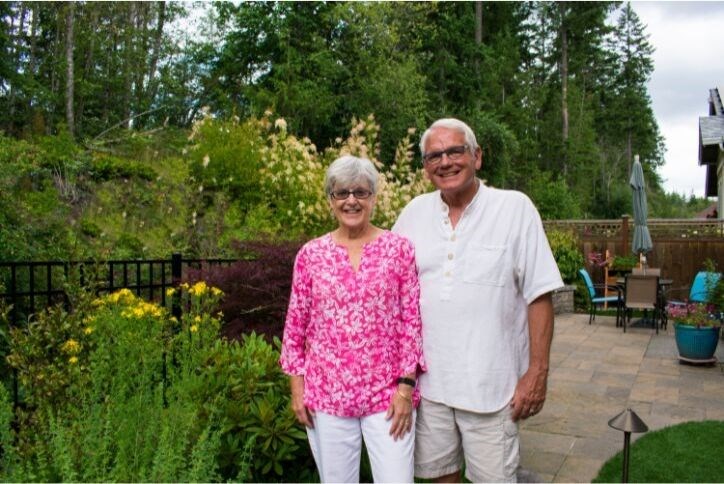 Tehaleh's Ambassador Program Helps You Sell
Home shoppers considering a move to a new area frequently site "community" as a top priority. When moving away from family and friends the ability to quickly establish roots and feel connected is often a driving factor in deciding where to purchase a new home. Buyers want to experience a sense of belonging: to be part of something that aligns with their values and expectations. For many Tehaleh residents, it's this connection to community they appreciate most…and they love to tell others about it! The Tehaleh Ambassador program is an excellent way for your clients to have their questions answered and receive honest feedback on builder experiences from home owners who love living here.
Meet Tehaleh Ambassadors Lynn and Nancy Hurley­
When Lynn and Nancy visited Tehaleh four years ago they had no idea what to expect. After 19 years of living in Mill Creek the Hurleys decided it was time to downsize. Once their children moved away they saw no need to keep a large family home filled with "stuff" and started their quest for an active adult community.
They found Tehaleh! 
Lynn says Tehaleh "has over-delivered in beauty" and their own home in Trilogy® at Tehaleh,® by Shea Homes exceeds their expectations. In fact, as Ambassadors, Lynn and Nancy have explored the models of all eight Tehaleh builders and they are impressed with all of them. 
Below are a few reasons your clients may benefit from a conversation with Lynn and Nancy:
"We met more people in the community in one week than we had in the 19 years we lived in our old neighborhood." Not only did they meet people, Lynn and Nancy developed relationships that quickly helped them feel connected. By speaking with our friendly Ambassadors your clients will quickly discover the respect Tehaleh residents have for one another – a community where neighborly relationships often grow into supportive friendships.
"We love the small resident groups in Tehaleh, like book clubs or neighborhood pours-at-four gatherings." Homeowners throughout Tehaleh appreciate the spontaneous neighborhood activities that take place late on a Saturday afternoon, while the kids play together and residents gather on someone's front porch. The touch football games, often played against the backdrop of majestic Mt. Rainer, create a picturesque illustration of the community for realtors selling in Tehaleh.
"Our dog Poqui loves walking to The Post (Tehaleh's Visitor Headquarters), every day for attention and treats from all the friends she has made there. The Caffé D'arte baristas will greet you with a smile and brighten your day with a delicious drink, lunch or snack."
"The views, the views" Need we say more? The glory of Mt. Rainier can be seen from many vistas throughout Tehaleh –a welcome site that is consistently awe-inspiring.
If your clients need more personal information about life in Tehaleh, please contact Willow Flint, Marketing Coordinator and Broker Advocate for Tehaleh. Share some of your clients' story and Willow will match them with a family who can answer their life-at-Tehaleh questions. Call 253.205.8190 or email at wflint@newlandco.com.
Want More Information?
Please click below to contact our team and we will be happy to answer any questions you have!
Contact Us