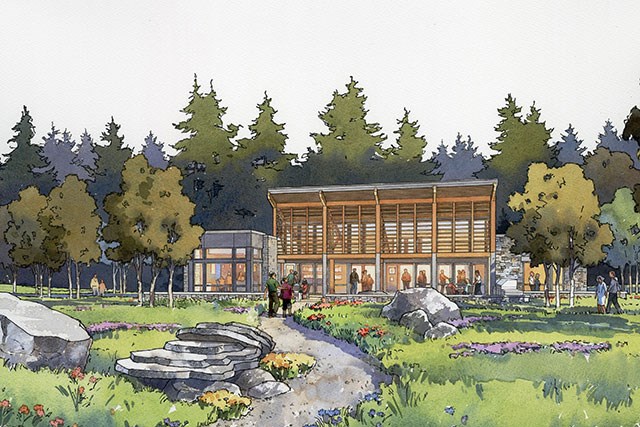 Homes on the Hill: Your Tehaleh Questions Answered, Part II

By Lauren Padgett
Bonney Lake - Sumner Patch
Part I of our interview focused on Tehaleh home style, trails and the Welcome Center development. In Part II, we discuss plans for the wastewater treatment facility, future schools, road development and more.

Q: What road improvements is Newland responsible for, and when will construction begin?

We have obligations for road improvements on 198th Ave. E. The "missing link" [near Bonney Lake High School] is our number one priority – it's the most direct shot out of there. We have contractors working on design and permitting right now, and Pierce County has started the right-of-way acquisition of that corridor. We're hoping to get the design and permitting done later this year, and the right-of-way in early 2013. We'll start construction next year on the missing link and plan to complete in 2014.

Between now and then, traffic will be about the same as it always has been, but planners hope that 120th Ave. traffic will actually decrease with a more straight shot to SR 410.

Q: What businesses are looking to move into Tehaleh's retail core?

We have had some inquires from businesses that are interested, but it's more of an interest in what is going on right now and what the future opportunities are. We're not at the point yet where anyone is ready to take action.

We'd be interested in learning more about what businesses Patch readers would like to see in Tehaleh.

Q: What are Tehaleh's plans for public safety? What public facilities will be there?

The previous landowners talked about a police substation, but we spoke to the Pierce County Sheriff and they felt they didn't need anything at this time.

East Pierce Fire and Rescue is completing a long term capital improvement plan that, when completed, will provide more details on plans in or near Tehaleh.

We hope to include a library component at some point.

Q: Eismann Elementary in the Sumner School District is already there. Is there any talk of building other schools at this time?

There are seven schools shown in our master plan – the development agreement calls for one high school, two middle and four elementary schools. That's subject to change, depending on how the community actually grows. From our perspective, we love schools and will facilitate that happening every way we can.

Because of Tehaleh's location, we actually end up with both the Sumner and Orting School Districts in our boundaries. We are not planning to build any schools at this time but we are in talks with both districts and will keep talking to them about it until the time is right.

Q: What plans are in place to handle wastewater treatment and what kind of facility is it going to be?

Our long-term goal is to build a wastewater treatment facility. There is a system there already, but we intend to build a plant. It's a very long, expensive process – we're looking at four years out and between $17 and $18 million dollars. It's our plan to fund those improvements and the county will operate and maintain it.

We are aware that the City of Bonney Lake is interested in partnering with us on this project and we've talked with city staff and public works. We're continuing to talk but it's just beginning.

The original plans for the development call for a Membrane Bio Reactor (MBR). Those plans are about 5 years old now, so we are going to do a double check to make sure that's the right technology. We don't know at this time if it is or not, but whatever is the latest and most efficient technology is the one we will move forward with.

Q: Will Tehaleh eventually be annexed into Bonney Lake?

Ultimately, who really will make that decision are the residents of Tehaleh. We're working with Bonney Lake city staff and leadership on a regular basis. Even though we aren't in their jurisdiction, we're their neighbor and need to work together.

Q: Cascadia had plans for a PGA golf course. What is the status on that project?

The golf course is a separate parcel and not on our map. It is owned by a separate company and is set up with a separate partnership with the previous land owners. This is not in Newland's ownership, but we plan on working closely with them, moving forward.

We don't know at this juncture what their plans are, but the golf course is still part of the land entitlement plans. If the landowners want to do something different, they would have to go through an application process on the public level.
*******
This article was published on Patch.com on June 15, 2012.
Click here to read the original article.