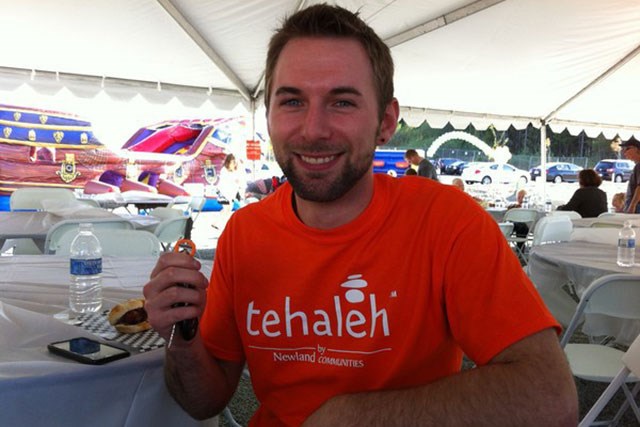 Puyallup Man Takes House Prize at Tehaleh's Grand Opening in Bonney Lake

The financial responsibilities associated with being a college student can be overwhelming, and Jay Bradley, 26, of Puyallup can attest to that.

The University of Washington graduate with a degree in economics has been saddled with enough student loans that he's moved back in with his parents, while putting all the money he makes from his current job toward repaying those loans. With interest.

The inability to put much into savings would be a bummer any other day, but Bradley was all smiles Saturday because, well, he won a house.

The prize was thanks to a Newland contest to promote the new Tehaleh development in Bonney Lake, celebrated with an official grand opening Saturday.

The developer first announced the giveaway in August. Contestants who registered online in early September then completed a series of timed online challenges until six finalists were selected for a live race that took place during opening day Saturday.

Looking back on his strategy to win, Bradley said his residual study habits from college helped. The online challenges were often reading comprehension-type tasks that required contestants to comb the Tehaleh website for information and then answer questions about that information correctly.

"I guess I was used to answering multiple choice questions quickly," he reflected.

On Saturday, Bradley and his team, dressed in orange, completed a four-challenge obstacle course which included building a five-stone cairn utilizing a wheelbarrow to move the rocks, completing a chalk drawing, planting a tree, and digging 15 keys out of a vat of coffee beans and trying each one until one opens the door that led to their victory.

The contest guidelines say that Bradley receives up to $280,000 to put toward a home that had already been completed or he can work with Tehaleh builders to construct a custom home of his liking.

He's opting for the latter. "I just want to be able to choose the colors and the flooring and carpeting and make it unique," he said.

It has to be special, because though Bradley technically won the home, "I'm giving it to my mom."

Mom Caren said she'd read about the giveaway in the newspaper and told her son, "win me a house."

So he did.

Tehaleh (TAY-HA-LAY) is a 4,700-acre planned mixed-use community that, when completed, is expected to include 9,000 homes, a 419-acre employment center with 3.9 million sq. feet of commercial/retail space as well as a fire station, up to seven schools and more than 1,000 acres of open space plus trail network. The first homes will offer flexible floor plans from 1,350 sq. feet to 3,300 sq. feet at price points starting in the high $300,000's.

Newland is also constructing the first-ever active adult community in Pierce County in this development.

The property, formerly known as Cascadia, was purchased by Newland in March 2011 after it declared bankruptcy in September 2010.

For more information, visit https://www.tehaleh.com.
To read the original published article from Patch.com click here.