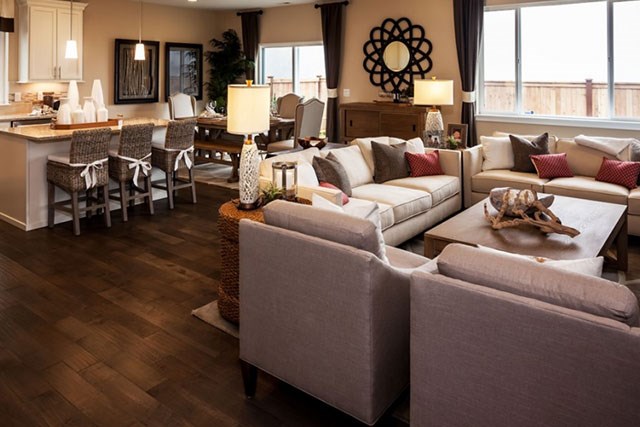 Tehaleh Welcomes Pulte Homes

Tehaleh is excited to welcome Pulte Homes to the Puget Sound's top-selling new-home community. Pulte Homes, one of the nation's leading builders with 60 years of experience, recently joined the impressive line-up of builders in the community – Lennar, Quadrant Homes, Richmond American Homes and Trilogy at Tehaleh. For buyers who have yet to experience Tehaleh, there's no better time to visit and learn more about Pulte's grand opening specials. 
"Tehaleh is an incredible community, and we're thrilled to be a part of it," says Andrea Murphy, Vice President of Sales for Pulte Homes. "We share the Tehaleh philosophy of putting the homeowner's experience first, and creating communities that people can truly call home. We're looking forward to providing families the opportunity to purchase a new home at a great value."
Each floor plan has been Life Tested®, ensuring a functional design that eliminates wasted space.  Pulte invited Puget Sound area homeowners to tour life-sized models of their home designs and weigh in on their favorite features and amenities. Pulte then incorporated their feedback into the new designs, resulting in homes that take the real needs of buyers into account. A popular feature in Pulte Homes is the planning center, an innovative space located near the main living area that's perfect for doing homework, checking email, or paying bills. Other Life-Tested features include expanded entryways that keep messy activities away from the rest of the house, oversized kitchen pantries with extra storage, and spacious laundry rooms with plenty of room to stay neat and organized.   Pulte's six new floor plans debuting at Tehaleh include two single-story and four two-story plans. The single-story plans range from 2,348 to 2,637 square feet and feature flexible loft spaces, private backyards and larger lots. The four two-story plans range from 2,426 to 3,004 square feet, and offer a wide array of features including up to six bedrooms.
To learn more about Tehaleh's homebuilders, click here.