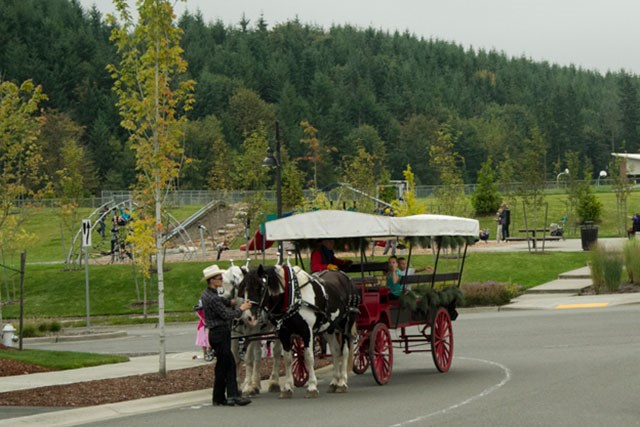 Events You Don't Want to Miss

As the Puget Sound's bestselling new-home community, Tehaleh's continuous growth can be seen in the various entertaining community and resident events. This spring included an egg hunt with an appearance from a notorious bunny, a community-wide garage sale, resident barbecue, Donald Eismann Elementary Spring Carnival, the grand opening of a new neighborhood and park , as well as Tehaleh's first annual pet friendly event, Tails and Trails.
Mark your calendar to join us on September 27th for our annual Harvest Day. This is an event you won't want to miss. Start the day off running along Tehaleh's scenic trails in the second annual Evergreen Trail run. There are runs for every level including a marathon, half marathon, 10K, 5K and 1K kids run. After the run the Seattle Seahawk's mascot, Blitz will be here to support you at the finish line.
Spend the rest of the day celebrating the community's second anniversary with fun activities for all ages. How about a view from a hot air balloon? Captain Crystal will be giving complimentary tethered air balloon rides to give guests an even more amazing perspective of the community. If heights aren't your speed, experience the inner workings of an inflated balloon by taking a tour of the inside of it. 
Relax and refuel from touring the 14 model homes at one of the delicious gourmet food trucks, or recharge at the Rainier beer garden while listening to great local bands. Hop on one of the shuttles to easily explore the community while experiencing activities the entire family can enjoy such as carnival rides, face painting, an inflatable bounce house, local vendors and country wagon hay rides through the trees.
 If you're interested in Trilogy at Tehaleh, don't miss touring the beautiful five model homes. Each designer home will feature amenities inspired from their Seven Summits Club breaking ground this summer. Learn more about the gourmet culinary studio with TV monitors to showcase the cooking demonstrations, a fully equipped fitness facility with personal and group classes and garage doors that open to allow classes in the natural beauty. Find out more about the Crow's Nest: A new addition that allows people to bring their golf clubs, enjoy a drink at the bar and virtually play on hundreds of golf courses from around the world. 
Each month Tehaleh has exciting events you don't want to miss. Whether it's a grand opening of a new neighborhood, a new park, community wide garage sale, or an organized fun run through our trail system, ensure you're keeping up on the action. Visit the online calendar of events or check us out on Facebook for upcoming events.