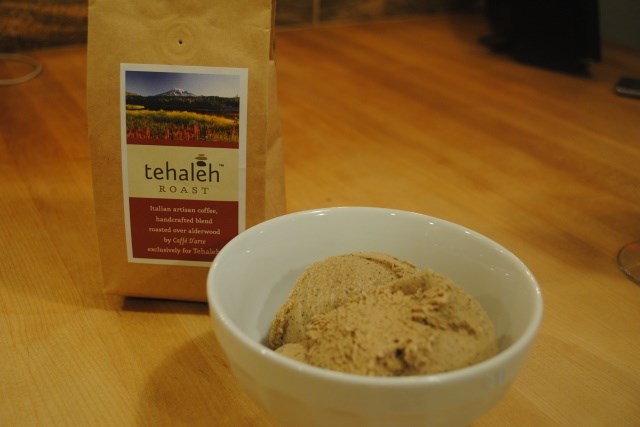 Tehaleh Roast Ice Cream at Home

While you're walking the trails this summer, stop in at The Post for a refreshing smoothie or Italian soda. Before you leave purchase a bag of the Tehaleh Roast from Caffé D'arte and try your hand at coffee ice cream at home! Coffee ice cream takes a childhood classic and adds an adult twist. This delicious dessert is a great treat to help you beat the heat.

Makes 1 quart
3 cups half-and-half
3 cups heavy cream
2 cups sugar
8 large egg yolks
1 vanilla bean
4 Tablespoons Tehaleh Roast ground coffee
4 teaspoons vanilla extract
1/8 teaspoon salt

In a bowl with a pouring spout add the vanilla extract and salt. Add a fine mesh strainer on top and set aside.

In a separate bowl beat the egg yolks with a fork or wire whisk until well combined.

Warm the sugar with the half-and-half in a saucepan over medium-low heat. Split the vanilla bean down the middle and using the back of the knife, scrape out all the little black dots and add this to the mixture along with the outside of the bean too. Continuously stir until the sugar is dissolved and small bubbles begin to form around the outside of the mixture. This should take approx. 10 to 15 min. The mixture should be warm, but not hot.

Using a ladle, scoop a bit of the warmed mixture into the bowl of egg yolks, slowly stirring while you drizzle. This will temper the egg mixture and ensure you don't end up with scrambled eggs. Pour the egg yolk mixture into the saucepan. Add the coffee to the saucepan mixture, slowly stirring to combine everything. Again, you don't want scrambled eggs!

Continue to simmer the mixture over medium low heat for an additional 10 minutes until the mixture begins to thicken slightly. It won't be ice cream thick, but it will begin to resemble a custard.

Strain the mixture through the fine mesh strainer into the bowl with a pouring spout. If coffee granules go through the strainer, it's okay, this adds more flavor.

Remove the strainer and stir in the heavy cream to the mixture. Cover with plastic wrap and refrigerate at least 8 hours.

Churn your ice cream according to your ice cream maker's instructions. I love my KitchenAide. I typically churn for 20 minutes. Then transfer the mixture to a glass loaf pan and cover with plastic wrap for at least 2 hours or in a plastic air tight container.