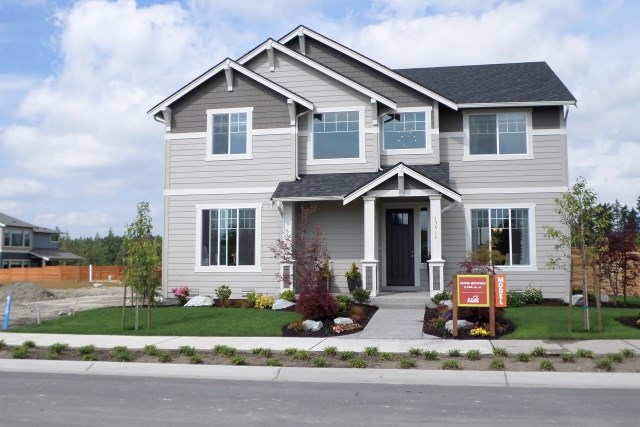 Tehaleh Rings in 2015 with New Builders
The widest selection of new home designs in the Puget Sound just better. Tehaleh, the region's top-selling new home community, is kicking off the New Year in style by welcoming Conner Homes and Azure Northwest Homes, to the area's favorite community in harmony with nature.  Each builder offers unique floor plans and amenities found only in Tehaleh.

Tehaleh's newest builders join the already impressive lineup of current builders: Lennar, Pulte Homes, Quadrant Homes, Richmond American Homes and Trilogy at Tehaleh. With homes starting under $300K,the New Year is a great time to shop for a Tehaleh home and our builders have made it even more enticing to make the move.  Don't miss out with special offers including a bonus of up to 3% toward financing for buyers who close on a Lennar home by February 25. Pulte Homes is offering buyers $20,000 in options on homes purchased before the end of February. Richmond American Homes has partnered with Home American Mortgage in January to include $10,000 in options and $5,000 towards closing costs on pre-sales and 3% on available inventory. And Trilogy at Tehaleh is extending $10,000 in incentives on all new homes built in 2015.

Tours are available daily – visitors will love exploring Tehaleh's 11 model homes and 17 quick move-in homes, along with 20+ miles of trails, eleven parks, and stunning Mount Rainier views. Construction of the new builders' model homes will begin in January, with the grand openings planned for spring. Visitors to Tehaleh will enjoy stopping in at The Post, Tehaleh's inviting welcome center, to enjoy a handcrafted Italian latte or hot chocolate from Caffé D'arte.

Conner Homes comes to Tehaleh with nearly 60 years of experience building homes in the Puget Sound area. They'll be ringing in the New Year with four exclusive floorplans developed for the Tehaleh community. One in particular features the master bedroom on the main floor, a design feature that is sought after by many buyers. "Our homes all have large windows to let in natural light, and are designed in a contemporary Northwest style with spacious, open floorplans," said Charlie Conner, owner and president. "Buyers love living in these homes."

Building a relationship with each homebuyer is key to the Conner Homes buying process. By exploring a family's needs and desires, customizing a dream home becomes a relatively straightforward process. With floorplans featuring flexible, multi-use spaces, buyers can customize the space to fit their lifestyle, whether it is a craft room, kid's playroom or media room.

"We are thrilled to be part of Tehaleh's long-term plan to develop the community into a thriving place for people with a passion for the outdoors," said Conner. "There are so many outstanding amenities that make Tehaleh a great place to live; the trails, parks, close-knit community, beautiful mountain views and Donald Eismann Elementary, the school at the center of the community. It's a destination resort and the perfect place to put down roots in 2015."

New builder Azure Northwest Homes is founded by Tom Young and Isaac Stocks. They bring decades of experience partnering with Pacific Northwest buyers. "The community offerings at Tehaleh allow homeowners to live their dream lifestyle," said Tom Young.

Azure Northwest Homes will launch four innovative floorplans at Tehaleh. "Our floorplans embrace transitional design concepts. The interiors of our homes are fresh, contemporary spaces with clean lines that appeal to buyers with traditional or modern taste," said Isaac Stocks, principal of Azure Northwest Homes.

Features of Azure's homes include private outdoor living spaces, mud rooms and tankless water heaters. Azure's oversized detached garages surpass conventional home design standards. "Homeowners will enjoy the expansive open living spaces created by detaching the garages," Isaac explained.  

For more information on Tehaleh's new builders and floorplans visit www.Tehaleh.com.