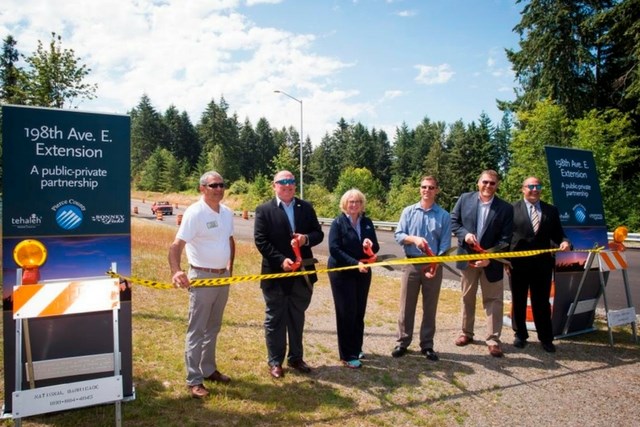 New Road to Tehaleh
It's now easier than ever to come home to Tehaleh. the long awaited road connection is now open offering faster access to local conveniences.
Tehaleh celebrated the completion of a .75-mile extension creates a new alternative to accessing Hwy 410 from Tehaleh and nearby neighborhoods, relieving some traffic on South Prairie Road, Angeline Road and Sky Island Drive.

"Roads and traffic don't stop at the city limits," added City of Bonney Lake Mayor Neil Johnson. "As Tehaleh's nearest neighbor, we're working closely with Newland and the county to address traffic and maintain the great lifestyle we enjoy on the plateau."

The road opening is the first of a series of Pierce County road projects that will ultimately result in 198th Avenue East, the road that leads into Tehaleh, becoming a four-lane road from the intersection with 120th Street East South to Tehaleh's first roundabout at Cascadia Boulevard East. The entire 198th Avenue East project is projected to be completed in late 2018.

Newland has contributed $11.8 million to road projects in Bonney Lake and Pierce County and will spend an additional $11.7 million for traffic mitigation by 2019 for the first phase of Tehaleh.

"We're building a new community over the next 20 years in one of the fastest-growing areas of the state. With that comes the need for infrastructure improvements," explained Scott Jones, senior vice president of Newland. "Improved roads benefit Tehaleh residents and also help us attract businesses to our commercial and industrial properties."