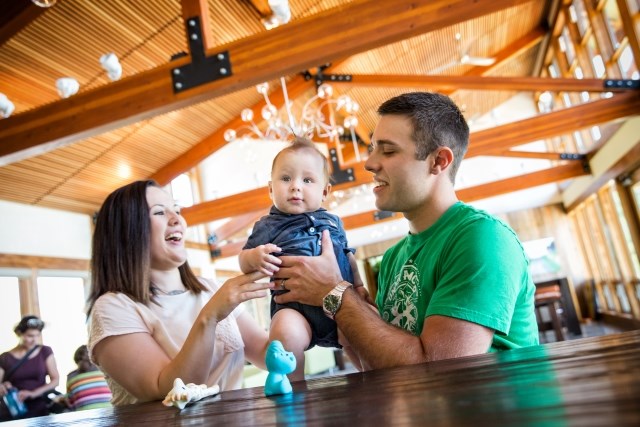 Renter No More: A Dream Comes True at Tehaleh
There are few dreams more significant for young couples than home ownership. For Leilani and Cameron Aktepy, their dream came true when they bought their first home in Tehaleh.
"As soon as we drove into Tehaleh, Leilani was in love," said Cameron. "We wondered, 'Could we even afford to live here?'"
"We had been renting for several years and knew we really wanted to own," Leilani added.
"We thought we had a long way to go," she said. "But we moved into our house one year to the day after we made that decision! When we saw how beautiful Tehaleh is and how it has everything we could want, the decision of where to live was easy."
As the Puget Sound's best-selling community of new single-family homes, Tehaleh offers a premier Pacific Northwest living experience.
Cameron continues to appreciate the overall plan of the Tehaleh community. "In some other neighborhoods, all of the houses look exactly the same, but not here. At Tehaleh, there are several builders, and the houses all look different, but they have a cohesive feel – it feels like a true neighborhood."
The community offers a wide variety of home choices and prices to choose from.
For buyers looking for an outdoor lifestyle and a place to establish roots in a tight-knit, welcoming community, Tehaleh is ideal. The Aktepys were attracted to the community's elementary school, more than 10 parks, more than 20 miles of trails and stunning views of Mount Rainier.  
Cameron and Leilani most enjoy walking the trails that connect the community.

"We have a trail from our house that is just 0.2 miles to The Post. We go in for coffee and we bring the dogs, and they get treats. That kind of walkability is another reason we picked Tehaleh," said Leilani. "You hear about neighborhoods where people are friendly - I didn't believe that really happened, but it exists here. We've already had many get-togethers and parties with neighbors."
The Aktepys worked with Quadrant Homes to choose their lot, the perfect floor plan and all of their finishes. Leilani shared, "We were impressed that our home came standard with many high-end, designer finishes.
Their favorite features are the wood floors and fully-fenced yard, both of which were important features for their dogs and cats. "We were able to design every detail, and we loved that our house was customized to us," said Leilani.
Knowing their family intended to grow, they settled on a home they knew would allow them to expand.
"Initially now our pets had their own room," she said, "but we will now have a little boy named Hendrix that will grow up in an incredible place."
"It's still very surreal that we were able to purchase such a beautiful home in such a beautiful community," she added. "It's nice to see all of our hard work materialize."