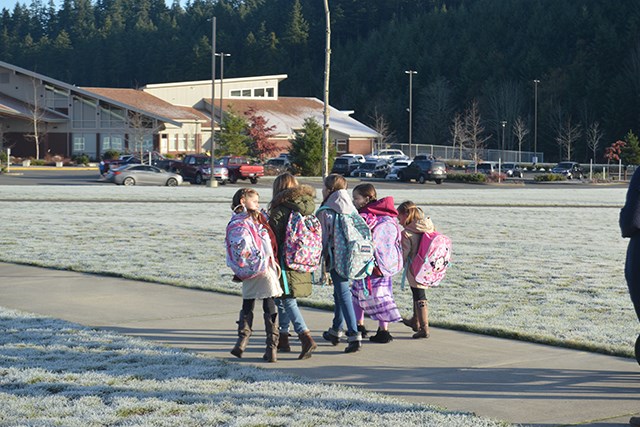 Strong Academics & Great Outdoors Draw Parents to Tehaleh
Roshelle and Robert Lee had one thing on their minds when they were shopping for a home, a quality education for their young daughters. "Our number one priority was their schooling. We kept hearing about the highly-rated Donald Eismann Elementary. Once we found out it was in the center of this amazing new home community, we were hooked!"

Donald Eismann Elementary is the well-regarded public school at the heart of Tehaleh, the Puget Sound's best-selling community of new single-family homes. Known for its stellar outdoor amenities, Tehaleh offers residents the unique opportunity to walk their children to a renowned school in a strong community.

"We moved here from Spokane, not knowing anybody," says Roshelle, "Now all of our friends and our kids' friends are our neighbors! I help out in my daughter's class two days a week and we really feel like we're part of something special." Tehaleh parents look forward to school events since they offer a chance to meet their children's friends and connect with other parents outside of school hours.

"Children come first in everything that we do," says Donald Eismann principal Susie Black. The school is known for strong academics and a willingness to embrace the latest in classroom technology. Each classroom is wired with state-of-the-art tech boards in place of chalkboards for an optimum learning experience. In recent years, the school's fifth graders have the highest scores in science in the Sumner School District, and are participating in an iPad pilot program, with iPads donated by Tehaleh. This willingness to embrace new technology is an example of how Donald Eismann Elementary is preparing students for the future. In 2015, Schooldigger.com rated the Sumner School District 17 out of the nearly 200 school districts in the state of Washington.

Because the school is located in a forested environment, field trips often involve walking on the trails, among the trees, and conducting science experiments out in nature. A walk-a-thon last fall took participants on the paths and through the parks at Tehaleh.

Tehaleh homeowner, Roshelle appreciates the combination of a strong school and access to the outdoors. "We feel like we found the total package," Roshelle says.  "We love how our home backs to the green belt, walking trails, and parks. We also love our home's design – especially the media room, which is a real hub of activity. Plus, I can walk our first grader to school. It all adds up to a great lifestyle."

"Because of contributions from Tehaleh, the PTA is able to cover more costs and distribute bracelets to students that otherwise couldn't afford to attend," says Jessica Lewis with the Donald Eismann PTA. The school grows by the week with more families finding their new home at Tehaleh. "The school has been a great way for families to connect," says Black. "Our school used to be in an urban location where all of the students were bused in. We prioritized finding a new location where the school would be the center of a community. We are connected through the belief that, together, everyone will achieve excellence."

Tehaleh plans to continue to support the school through school supply donations each year and PTA event sponsorships, including the annual walk-a-thon.  In 2017, the team will expand the opportunities to become more involved with the Sumner School District. These include presenting two graduating scholarships to a Bonney Lake and Sumner High School student who meet the criteria and adding Liberty Ridge Elementary to the school supplies donation. The team continues to expand the Holiday giving tree program for less fortunate children in the Sumner School District, which continues to be a popular resident activity in December.