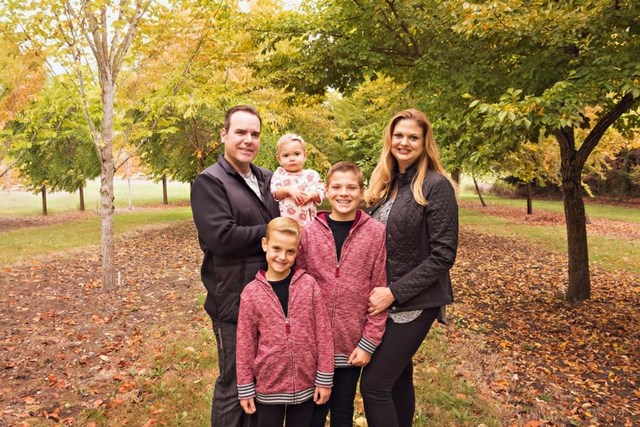 Moving Up, But Not Out, of Tehaleh
In Tehaleh, there are a growing number of homeowners who are part of the "move-up buyer" trend
–whether it's for more space, an extra room for a new family member, or upgrading to newer home
features, these families have discovered they can find their next home without having to leave the
tight-knit community they love.
Dan and Kelly Doty found themselves in Tehaleh after a wrong turn. That fateful detour led them to
buying a home and settling in. For three years, they savored their days spent in the parks and on the
trails, and with the friends they had made in the neighborhood. When they started considering a move
to a larger home, they knew that they couldn't give up their lifestyle. This led them to consider "moving
up" and building a brand-new home in Tehaleh, which they moved into this March. "It's just so beautiful here,
with all of the trees, and we really enjoy the community," said Dan.
For the Doty family, the "move up" decision came after they saw an Azure Northwest home with a
rooftop deck while out on a walk on the Tehaleh trails. They knew at that moment that it was the kind of
home they wanted to raise their three children in. "We now have a beautiful view of Mt. Rainier from
our rooftop deck, and a large outdoor patio that backs up to a greenbelt," said Dan. "It's such a wonderful view."
For Riely Harris, it was seeing the way her children were thriving - making strong connections with other
kids, loving school, and exploring the outdoors, that kept her family in Tehaleh. When she and her husband
decided they needed more room for their five children and live-in nanny, they briefly considered buying
elsewhere, but found it impossible to imagine leaving. "It's so comfortable for my kids," Riely said.
"They are able to walk out the front door and play!"
On any given day, the Harris kids (ranging in age from 20 months to ten years old) can be found riding
bikes, exploring in the woods, or playing at Sticks 'n' Stones Park. Riely's ten-year-old daughter runs the
trails with her dad, and the whole family likes to take their two pups to Hounds Hollow dog park. "We
know everybody here and have established some great friendships," said Riely. "It's just how we want to
do life."
Now, a little more than three years after they first fell in love with Tehaleh, the Harris family expects
to move into their new Richmond American home this fall. Riely said, "We're just around the corner from our
new house under construction so we love to go look every single day to see what's changed!"
If you're on the hunt for a new home or finding you need more space to grow, Tehaleh has homes starting
from the high $300,000s to the high $600,000s. Check out your Tehaleh Homebuilders.