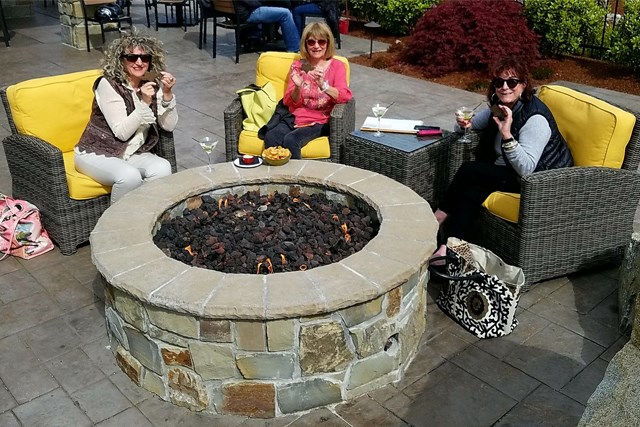 A Playground for Grown Ups
Trilogy® at Tehaleh® residents aged 55+ are finding more than they bargained for at Seven Summit 
Lodge, the community's member-only active adult club. "It's become a focal point for our lives in these golden years," says Robert Reed, a four-year Tehaleh resident. "We love the fitness classes, and The Mantel restaurant is top-notch for those nights when we just don't feel like cooking."
From yoga to swimming to wine tasting, the Lodge is truly a one-stop shop for members seeking entertainment, relaxation, and fitness.
Tehaleh resident Laurette Hulk quickly fell in love with her Trilogy at Tehaleh home and the community's lifestyle. From pottery and gentle fitness classes to wine tastings and delicious brunches with friends,
Hulk easily fills up her days with both fun and productive activities. "Life wouldn't be the same for me without the Lodge," says Hulk. "This is it for me. I'm here to stay!"
New member Kimberly Blake just celebrated her housewarming and 65th birthday at The Mantel with two of her closest friends. She looks forward to enjoying the Lodge and is excited to start taking photos
on Tehaleh's many trails, one of her passions. "I'm so excited to get out and enjoy the community now that I'm settled in," Kimberly said. "I can't wait to start living my life here!"
Want all the scoop on the fun and games at Seven Summits Lodge? We've got it!
The Mantel
Want to order up a bite to eat after some fun in the sun at one of Tehaleh's many beautiful parks? Look no further than The Mantel, where casual dining meets comforting and sophisticated food. Featuring fresh ingredients, a friendly staff and a welcoming atmosphere, The Mantel is Seven Summit Lodge's crown jewel. The Mantel is the only part of the private Lodge that is accessible to the public with the purchase of a dining membership - though invited guests are always welcome to dine with a member. 
Two Tides Aquatics and Events
After a snowy winter, the summer heat is pretty nice. Members can come and cool off with a dip in the pool at Two Tides. Plus, whether it's by science or magic (we don't know), the pool can be rapidly drained as the floor raises up (a technology made famous by Cirque de Soleil's show, "O") to turn the room into a large dance party room, perfect for hosting a summer party. Who needs two rooms when you
only need one?!
Hawk's Nest
Billiards, darts, golf, oh my! Fashioned as the choice sports-centric spot, the Hawk's Nest features space for members to relax with friends, multiple flat-screen TVs, and everything else you'd want at your favorite club. Perhaps the Hawk's Nest's biggest draw is the virtual golf simulator that allows you to play
over 200 of the top courses.
Four Suits
Looking to wind down after meeting up with friends at The Post? Whether you're playing for fun, or wanting to be a bit more competitive, Four Suits is Seven Summits Lodge's haven for members, friends, and family that want to throw some cards around–regardless of your card-playing skill.
Base Camp Athletic Club
From Pilates and Yoga to Muscle Toning and Spin classes, Base Camp Athletic Club is a one-stop shop for
your daily fitness needs. Featuring the newest, comprehensive TechnoGym Training System, the athletic club
is perfect for members looking for real-time personal training.
Flow Body & Mind Studio
Flow Body & Mind encapsulates the artisan studio. Perfect as a well-stocked workshop designed for quilting, painting and ceramics, the creative juices "flow" in this room. The space moonlights as a studio for mobility, cardio or group training classes. With two large garage doors that open up to let in the fresh air of the Pacific Northwest, the space is truly tailored to motivate and inspire Lodge members!
Take a virtual tour of The Seven Summits Lodge and plan your visit to see it in person by contacting the Trilogy at Tehaleh tour center today.