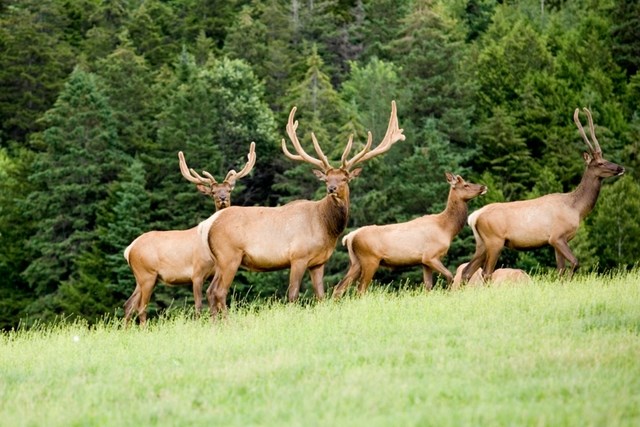 Wildly Fun Ways to See Wildlife
Living in Tehaleh means sharing your neighborhood with creatures and critters of all sorts. Throughout
our parks, trails, and forests roam a range of furry and feathered friends, including deer, elk, hawks,
and bald eagles. But if you'd like to see even more exotic wildlife, there are some great options outside the
community, with several family-friendly zoos, nature preserves, and parks to explore.
Northwest Trek
A Washington staple for over 40 years, Northwest Trek offers an up-close look at moose, elk, bison and
other wooly wonders, all in their natural habitat. The hour-long Trek Tram leads you throughout 435
acres of stunning meadows and forests, while a park naturalist narrates your tour. De-board the tram to
check out other native Northwest animals like black bears and river otters in naturalistic exhibits.
Olympic Game Farm
In the Olympic mountain town of Sequim, the Olympic Game Farm brings you face-to-face with exotic
animals via self-guided driving tours. Canadian lynxes, Kodiak bears and a rare Siberian tiger are just a
small sample of the wildlife you'll encounter. Originally designed as a holding and training facility for the
animal actors in Disney Studios films, Olympic Game Farm is now dedicated to giving captive-bred
animals a loving home. Be sure to bring some whole-wheat bread along – one of the highlights is getting
to feed animals by hand, from the comfort of your car!
Woodland Park Zoo
Seattle's Woodland Park Zoo is the recipient of multiple Best National Exhibit awards from the
Association of Zoos & Aquariums, and is an active member of environmental and ecological
conservation efforts across the United States. Visiting is always an adventure; in addition to
hosting more than 300 species from around the world, Woodland Park's summer ZooTunes concert series
features top rock, folk, jazz and blues performers on a beautiful outdoor stage.
Point Defiance Zoo and Aquarium
Founded in 1905, Tacoma's Point Defiance Zoo and Aquarium houses over 9,000 specimens and nearly
400 animal species. Featuring a Pacific Rim theme, the zoo and aquarium's exhibits reflect the
ecosystems of the Pacific Northwest, Southeast Asia, the Arctic Tundra and other rocky, oceanic shores.
Visit Point Defiance from late November to early January to check out Zoolights, the annual celebration of
dazzling 3-D animal displays covered in more than 500,000 lights.
Cougar Mountain Zoo
Committed to preserving wildlife through the power of education, Cougar Mountain Zoo in Issaquah
offers visitors close encounters with all of the animals that call the zoo home. Nestled on the slope of
Cougar Mountain, the zoo features sweeping views of the Cascades and Lake Sammamish. After visiting
your favorite animals, take a stroll through the Bronze Collection—the largest bronze animal sculpture
collection of any zoo in the world.