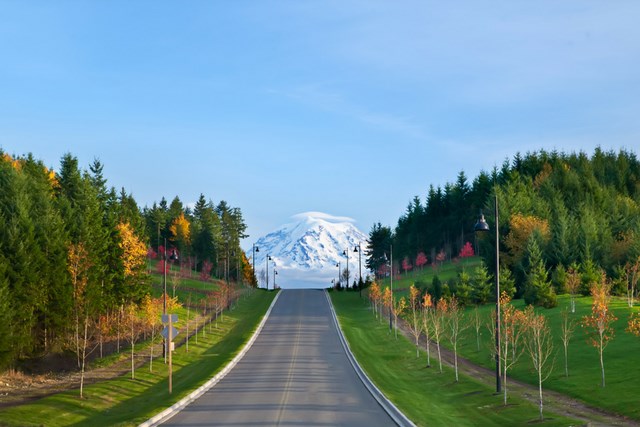 Celebrating Sustainability
Along with Arbor Day and Earth Day, we're celebrating all things sustainable in Tehaleh by getting outside! With spring in full force, the days are longer, and the weather is warmer - it's perfect for extra time spent out in nature. Our 20+ miles of trails, gorgeous mountain views, and natural greenbelt are only some of the connections the community has to the environment.

Tehaleh developer, Newland has thoughtfully implemented environmental standards in Tehaleh that are ecologically sound. This type of conscious planning extends all the way to the community's storm water management system – in fact, not a drop of water leaves Tehaleh! Almost unheard of in a master planned community, Tehaleh is building a state-of-the-art wastewater treatment plant that will produce Class A reclaimed water—the highest standard in Washington State. The water will then be used for irrigation, commercial business, and infiltration.

Tehaleh also produces its own topsoil - once the soil is removed from developed areas, it's screened to remove stones and twigs and mixed with sand and mulch. The rich topsoil is then used in parks and landscaping, minimizing the transportation impacts of large trucks hauling dirt and gravel to the community.
Wondering how you can incorporate green practices into your regular routine? Here are a few simple steps:
•Embrace the spirit of Arbor Day and plant a tree or flower in your yard. Talk to your local nursery and find out which plants thrive in our climate and will last throughout all the seasons – think how fun it will be to watch it grow and bloom each year!
•Take an Earth Day action and find out where you may be wasting energy. Remember to turn off the lights in your home and office – and unplug anything you aren't using. If it's still plugged in, it's still sucking up energy.
•Clean up after litterbugs! We're lucky that our residents, visitors, and maintenance team all take pride in the health of our trails and parks. If you're out enjoying nature and come across litter, pick it up and dispose of it properly.
•Best of all, channel Mother Earth! Take a walk outside, ride your bike on the trails, run, jump and swing in the parks and think about how lucky we are to be surrounded by such beauty! It's a simple way to make a positive impact on your life – and our earth.
The values behind Arbor Day and Earth Day thrive in Tehaleh, where the community is built to be on the forefront of environmental sustainability.