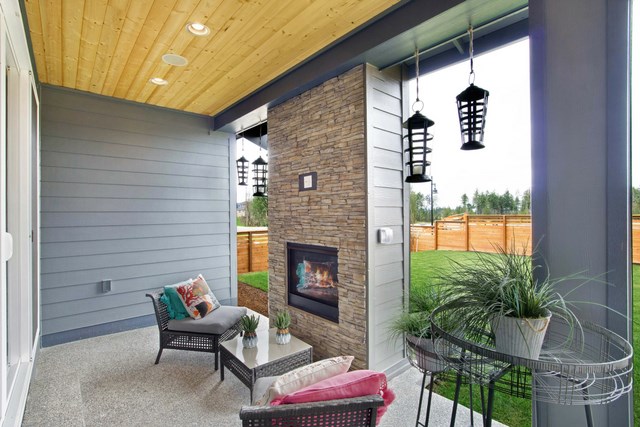 Your New Home Helps Build A Forest
Chris Cowan, owner of Brookstone Homes in Tehaleh, has a love of the natural world that extends beyond his blueprints. That's why this avid camper and hiker has made it a business goal to donate funds to rebuild forests.
When Chris started Brookstone Homes, he decided that with every home sold, he would make a donation to the National Forest Foundation, in order to plant more trees. To date, the builder has donated more than $10,000 worth of trees to the foundation. "It's really important to me that the money stays here in the U.S., so we can preserve our parks and build up our forests," said Chris.
Chris incorporated that passion into all of the Brookstone home designs. The modernized Craftsman-style homes have a distinctive Northwest aesthetic, tying elements of metal, stone, and cedar into their exterior facade. The natural elements pull inspiration from the community's outdoor amenities – the surrounding parks, forests, trails, and open space.
Brookstone's interiors feature 18' tall ceilings and sizable windows that "let the outdoors in," said Chris. "Natural light is a big thing for us – you can't skimp on the windows in Washington state. We looked at which areas were going to be too dark, redesigned the plans, and added windows where sunlight could come in."
"We pride ourselves on having a product that is versatile, with features that appeal to any homebuyer," said Chris. "Our color schemes, landscape detailing, and large living rooms really fit the Northwest lifestyle."
Additional features include large, covered patios, and outdoor fireplaces that come standard. A Smart Home package is available for buyers who want to be connected – it includes USB outlets, Cat 6 wiring for high-speed internet, and a smart technology lighting and stereo system that can be controlled from your device to create ambience.
Because of Chris's belief in conservation and preservation, he's made sure that environmental standards are built into every step of the Brookstone homebuilding process – from recycling excess materials to using energy efficient appliances, windows, insulation, and siding. Homeowners see those benefits pay off in lower energy bills and maintenance costs.
To take a closer look at the Brookstone Home model, plan your visit to Tehaleh today!