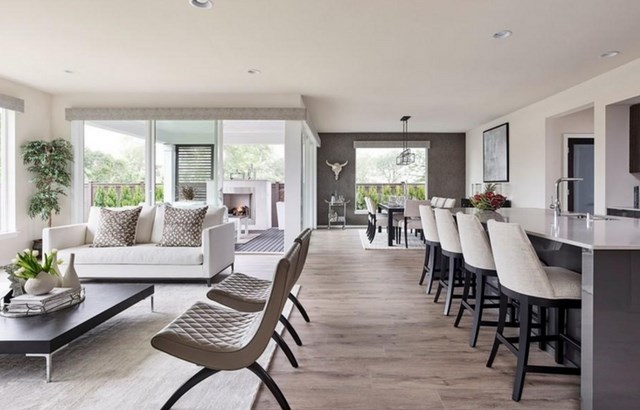 New Home Trends for the New Year
New Home Trends for the New Year
With the new year, comes new inspiration and new home trends. Whether you're home shopping or just
settling into your new home, we have some fresh design ideas to keep an eye out for in 2018.
Outdoor rooms
A top trend for 2018 taps into our Northwestern desire to embrace the outdoors throughout the
seasons. Outdoor rooms are covered spaces, attached to the home, that typically have screens
or sliding doors that open to the outdoors. Here in Tehaleh, MainVue Homes incorporates
outdoor rooms into several of their floor plans. In the Duxton model, an outdoor room complete
with a fireplace is an extension of the kitchen and great room making it the ideal spot for
year-round relaxing and entertaining.
Clean, bright rooms with simple lines
Home buyers are looking for clean, simple lines that can be a great jumping off point when
decorating a new home. Tehaleh homebuilders offer a variety of styles that feature open floor
plans.Brookstone Homes designed their modernized Craftsman-style homes just for Tehaleh,
making sure to include 18' tall ceilings and sizable windows to draw in natural light and
keep living spaces bright and modern.
Technology in the home
As smart home system technology has advanced, it's become a valuable tool for adding comfort into our homes,
simplifying daily tasks, and helping to make better use of our utilities. Devices like the
Nest Learning Thermostat can save energy and money on your bills. The newest model from
Brookstone Homes, opening in early 2018, will offer rooftop solar panels and electric car
recharge stations to buyers looking for energy efficient solutions.
The Amazon Echo and Alexa, and Google Home, can create lists and help in countless other
ways, while connected lighting can allow you to control the mood throughout your home.
Lennar will be adding smart home technology to their Everything's Included® model home
debuting in Tehaleh this coming spring. Builders like HC Homes also offer tech options
available for buyers who want to be connected – smart technology lighting and stereo hookups
to create ambiance.
Neutral colors
Just as we are craving simple design lines, we're also returning to neutral tones that bring a
sense of comfort into the home. Geometric and tribal patterns in black, white, and caramel color
pallets are on-trend, especially when combined with plants and pops of color, particularly in
orange and rose gold. Adding earthy room colors into your home can bring the serenity of nature
inside, creating a calm atmosphere. 
Don't forget the fun!
Moroccan textiles and pom pom blankets continue to create buzz in the design world. Blankets
with giant pompoms and tassels add personality and flair to a room when draped over the sofas.
And even better, they're great to snuggle in by the fire on a winter evening!
As we usher in the New Year, let these trends inspire you to craft your perfect space. To explore more
homes in the Tehaleh community, visit our Homefinder today.