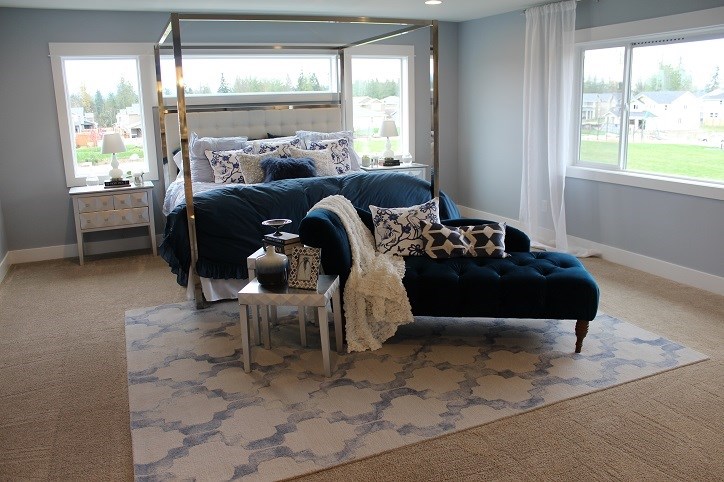 What is a "Master on the Main"?
Floor plans that offer a main level master bedroom, otherwise known as "master on the main", are pretty much just as they sound – homes with a master bedroom on the first floor near the main living areas of the home. There are several benefits to this type of floor plan:

1. Accessibility
Main-level master suites are a convenient and smart solution for aging in place. As older buyers decide on a home for their golden years, they may prefer a floor plan that doesn't require them to negotiate stairs should the time ever come when they are physically unable to do so. Master bedrooms on the first floor, and other universal design elements, mold a home to serve its homeowner at all stages of his or her life. Some even have separate kitchenettes, dining areas and living rooms to give the feel of a separate apartment, lending a greater sense of independence. You may also find a variety of other amenities, including private entrances and walk-in closets. First floor masters allow the homeowners to age with their homes.

2. Greater Privacy
First floor master bedrooms also allow the master(s) of the house to be separated from those who are dwelling on the upper floors. Perhaps you'd rather have your less-than-quiet teenager practice his guitar in a far off third floor bedroom while you enjoy a peaceful day of reading in your sun-drenched first floor master sanctuary or remain fast asleep in your upstairs suite as your daughter returns home from a late-night work shift.

3. Multi-generational Living
As the nuclear family gives way to a larger family unit, another trend helping with the popularity of the downstairs master is multi-generational living– which often necessitates separate living space for grandparents. Today's homes are more than just real estate; they are places where families live, love and experience life together.
Are you interested in learning more about main floor master bedrooms? Come by our welcome center at The Post!