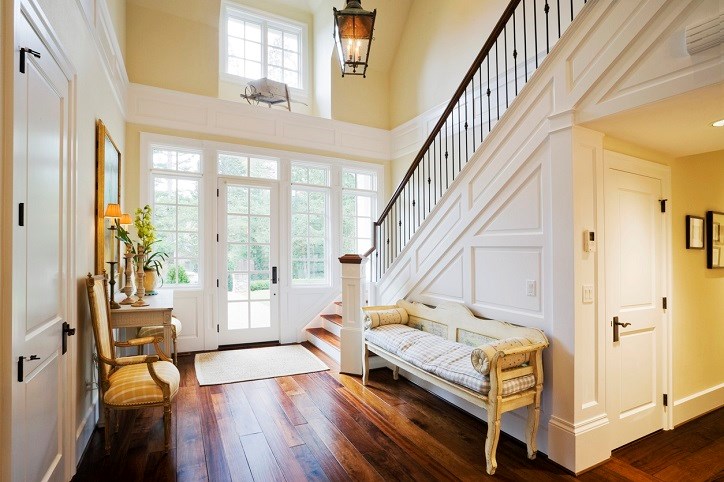 5 Simple Tips for Styling Your Foyer
There's nothing more impactful than a first impression. A home's entrance sets a tone for both those who live there and their guests. It is here that you greet cherished friends with warm embraces and kiss your children as they leave for school. It should make a fabulous first impression while remaining functional, as well as beautiful. Here are a few tips to help you make any entryway wow-worthy.
1. Provide Function Even the largest most stunning entryways should offer purposeful functionality. Storage is an absolute necessity and the key to storage in a formal foyer is to hide it. Your guests will need places to hang their coats and bags and you may even want a place to stash everyday items like shoes and keys if you regularly use the front entrance. Provide function to your entryway with a stylish console table with drawers. Choose a classic well-made piece, which will stand the test of time no matter how your design aesthetic changes. It's the perfect space to store daily necessities, display family photos, fresh cut blooms and treasures from your travels.
2. Go Dramatic with Lighting Swapping out the light fixtures that came with your home for something that you really love is one of the easiest ways to upgrade any space. Bring some drama to the room by adding in a new overhead chandelier or finding a pair of perfectly chic lamps. Wall sconces are a nice touch for an area with lots of natural light in the day time and mood lighting at night.
3. Create a View Remember that your foyer is a transitional space that's meant to lead to another room. Not only should your foyer look great, the other spaces you can see from the foyer should be considered as well. Consider what you want guests to see when they come to your home. Perhaps the foyer has a view of the bay windows across the hall that you can highlight with tall curtains or, if your foyer is more closed off, create your own view with furnishings, art, and décor. Ensure there is a clear visual path and direction to follow. A simple runner on the floor or continuation of tile into the next room can create the sense of direction you need to give your foyer purpose.
4. Highlight a Statement Piece Oversized art can do wonders in an inviting entryway. Consider adding a piece of art as a focal point for the foyer, or a collection of art to create a gorgeous gallery wall. Not only will your guests get an immediate sense of your style, but it can add another pretty pop of color tying in to the design in the rest of the home. To add a bit more luxury to your foyer, look for pieces that reflects light, like an antique mirror. A metallic-framed mirror on the wall will help to expand the space if your foyer is on the smaller side, while adding a little romantic glamour.
5. Keep in Mind That Less is More The single best way to make your foyer feel luxurious is to choose quality items. If you're blessed with an entryway big enough for several pieces of furniture, by all means, go for it. But if the area is on the small side, it will look so much more chic with a few carefully considered pieces. There's no need to shove a chair and side table into an area that is better suited for just a mirror and a plant stand. Opt for well-made furnishings and classic designs. There are no substitutions for the look and feeling that comes with simple elegance.