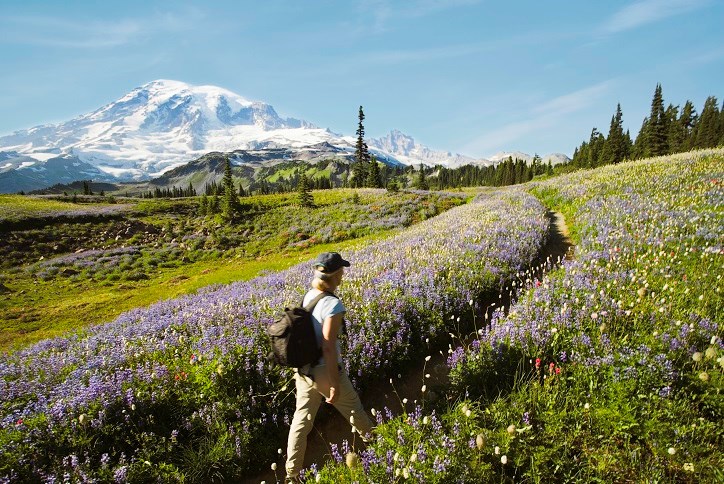 Your Complete Guide to the Top Outdoor Activities in and Around Tehaleh
One of the best things about living in Washington State is the proximity to nature. From the Pacific Ocean to the Gorge and Puget Sound to Mount Rainier, Washington offers a variety of outdoor activities to enjoy against the backdrop of its natural beauty.
Convenient access to outdoor activities are one of many reasons Seattleites are moving to Tehaleh, the best-selling community of new homes in Washington. With friendly neighbors, 20+ miles of nature trails, and 11 parks – including a dog park – residents can enjoy a multitude of outdoor adventures for every season of the year.
Discover the many activities around Tehaleh that you can enjoy while living here. From hiking and biking to kayaking, camping and geocaching, there's something for everyone. Additionally, in the community, residents can go zip lining or catch a movie in Big Sky Park. There's also Harvest Day, an annual community event open to the public.
Table of Contents
Mount Rainier
It's impossible to live in the community of Tehaleh without noticing the majestic beauty of Mount Rainier featured in the distance. Our residents rave about the mountain and think it's an integral part of our community.
Referred to as Tahol – meaning "mother of waters," by the Native American tribes that inhabited the area, it was explorer George Vancouver who renamed the mountain in honor of his friend, Rear Admiral Peter Rainier.
Mount Rainier stands more than 14,000 feet tall making it the tallest mountain in the entire state and the fifth tallest mountain in the lower 48 states. It's this height that makes it visible on a clear day from as far away as Victoria, British Columbia or Corvallis, Oregon. For even more fun facts about our neighbor, Mount Rainier, check out our previous blog!
Mount Rainier has 26 major glaciers and 36 square miles of permanent snowfields and icebergs making it the most heavily glaciated peak in the lower 48 states. These cold temperatures and icy conditions have created ice caves on Mount Rainier that are being studied for their similarity to conditions on planets like Mars.
Throughout this piece, we will explore many of the things you can do in and around Mount Rainier including hiking, camping, biking, horseback riding and various snow activities.
Mount Rainier Gondola
The Mount Rainier Gondola is a great way to explore the mountain itself at Crystal Mountain Resort.
The Gondola offers expansive views and breathtaking scenery as you travel 2,500 vertical feet up to the summit. The 12-minute trip to the top allows access to stunning views of the mountain as well a chance to dine at the Summit House, located 6,872 feet above sea level, making it the highest restaurant in Washington.
Summer Activities Around Tehaleh
Hiking
Hiking is a wonderful opportunity to get out and get in touch with nature. It's a pertinent, and at times needed, reminder of how small we are compared to our beautiful, vast world.
Whether you're hiking up mountains, over hills, along plains or through forests, hiking is a great and increasingly rare opportunity in today's busy lifestyles to connect with, not only the world around you but with yourself.
With 20+ miles of trails and breathtaking views of Mount Rainier, Tehaleh offers a perfect escape from the hustle and bustle of modern life, right outside your back door. Additionally, with Mount Rainier National Park so close by, you have access to over 400 miles of additional trails for all skill levels.
Spring, summer, and fall offer different and unique hiking opportunities and Tehaleh residents have access to a wide range of trail difficulties for novices and experts.
If you're not already an avid hiker, then the prospect of taking it up could be daunting. Movies and TV shows portray hikers as camelback-wearing, hardcore types that have a plethora of gadgets and specific hiking attire to make it up a mountain or survive in the wilderness for weeks at a time.
The reality is much simpler and a lot less scary.
The essentials for a hiking trip are likely things you already own or could easily purchase. A good set of shoes or boots, a backpack, a water bottle and some comfortable clothing and you're all set.
Hiking only requires you to take a moment to look around and enjoy your surroundings as you venture through nature.
Many sports have limited lifespans for participants because of injuries and the physical toll it takes to play.
Because hiking is low impact, it's a sport you can do for life. What can start as beautiful nature walks with your children, can turn into a lifelong love of being outside, being active and hiking.
This makes it an ideal sport to do with any of your family members, and the more than 10 miles of trails in Tehaleh make it easy to get out and enjoy mother nature.
Geocaching
If you're not familiar with Geocaching, it is a real-world, outdoor treasure hunting game using GPS-enabled devices, where participants navigate terrain and a specific set of GPS coordinates in an attempt to find the geocache (container) hidden in a specific location.
Residents in Tehaleh have brought this exciting game to the community and it has only grown in popularity with many geocaches currently hidden throughout Tehaleh. Hiding spots include a geocache log in Expedition Grove, trailhead signs, along the trails and many other areas. The unique hiding spots means participants not only get to enjoy a fun twist on their hiking or outdoor adventures, but also get to explore new areas of the community.
To take part in Geocaching, you will need a GPS device or smartphone with GPS capabilities and to download the Geocaching app. From there you can search for your first geocache. Once you have discovered one, you can trade one of the cache's goodies for one of your own and log your visit in the logbook.
If you're taking part in this exciting hobby, take lots of pictures and be sure to share them with us on Instagram or Facebook.
Mountain Biking
Just as Tehaleh and Mount Rainier are amazing places for hiking, they're also great for mountain biking.
Experienced mountain bikers will know these trails well, but if you're looking to take up the sport there is no better place than Tehaleh to start.
Mountain biking is a fun, full-body exercise that can take you to new vistas and experiences, like hiking but faster.
With the ability to explore Tehaleh's own trails or close destinations like Bonney Lake and Mount Rainier, Tehaleh's residents have a surplus of options for mountain biking.
Nearby Bonney Lake offers 27 trails, which translates to close to 300 miles of terrain. With trails showing gorgeous views of the lake and rugged landscapes, there is a trail for all experience levels.
Likewise, Mount Rainier has a variety of trails offering over 100 miles to explore. From Crystal Mountain to Packwood Lake, Mount Rainier's trails can offer a challenge to the most experienced rider or novice alike. With the higher elevations, the Mount Rainier trails are best explored from July to September. 
Kayaking + Canoeing
One of the most relaxing ways to enjoy the water during the summer months is getting out in a kayak or canoe. Tehaleh is perfectly situated to give you access to a number of amazing lakes and rivers from Mount Rainier National Park and Bonney Lake to the Puget Sound, some of these great spots include:
Parks of Tehaleh
Tehaleh residents have a close connection with nature and it's that close connection that has enticed so many residents to move to the community. Studies have shown that when children explore the outdoors they are smarter, happier, more attentive and less anxious than kids who spend more time indoors. Additionally, their outdoor pursuits benefit their cognitive development, build confidence, boost social skills, memory retention, emotional stability, imagination, and creative problem solving.
The signature of Tehaleh is outdoor living, and while the more than 10 miles of trails offer unique experiences for residents of all ages, the Tehaleh parks are not to be outdone. From tree-filled gathering places to the graffiti wall overlooking The Edge skate park, there is something for everyone.
Forest Park
Experience the breathtaking beauty of the world of Tehaleh through the trails of Forest Park, where you will also find a trailhead and living room in the forest. Another 20 acres of expansion are planned for this tree-filled gathering place.
Hounds Hollow
Your furry friends will love to let loose at the fully fenced off-leash dog park featuring an agility course, open grassy field, and pooch-friendly trails.
The Edge
Even our parks go far beyond the ordinary. The Edge offers a skate park and graffiti wall, half basketball court, meadow area, trails, and seat walls.
Yonder
Get your wildlife fix — or inspire the budding naturalist in your family — here in Yonder, where wetlands, trails and lawn converge. This space is ideal for birdwatching.
Sprouts Holler
Kids and adults alike can recharge on our soccer/baseball fields, playground, sport court, scooter parks, trails, and sledding hill.
Boulder Dash
Get your daily dose of spectacular Mount Rainier views (and photos!) here in Boulder Dash. A playground entertains the kids, and a picnic spot, climbable boulders, and grassy domes appeal to a wide range of ages.
Knoll Park
Unwind here in the midst of the beauty of Knoll Park, where there are trails for exploring and ample benches for relaxing.
Big Sky Park
The adventures at Big Sky Park are endless: T-Rex Ribs offer a wild climbing experience and water channels are ideal for splashing. A zip line, trailhead, picnic and bocce areas offer nonstop thrills.
Ponder
An oasis near the entrance to the Tehaleh community, Ponder has a tranquil pond at its heart. It's a picturesque stop after a long day at work!
Sticks 'N Stones
If Sticks 'n' Stones could talk, it would say, "this is why we live here!" Enjoy the captivating view of Mount Rainier, boulders, stumps, and logs to climb, plus a playground, and picnic tables, natural play and lawn areas bring extra green to playtime.
Expedition Grove
Embark on this "discovery path" full of surprises—including a climbing tree fort, totem pole, and animal prints! You can also test your detective skills by finding one special log within all the stumps in the park. This log conceals a geocache, which may contain a small treasure for you to keep. Remember to add an item to the log for someone else to find!
Sense of Community
With a community that loves to explore our 10+ miles of trails as well as grabbing a coffee at Caffé D'arte, you're never far away from connecting with the other amazing people that call Tehaleh home.
This increased sense of community is one of the great things about getting outdoors. Using your local park or taking in the many trails are all great ways to meet your neighbors to connect and foster great relationships. By putting down your computer or phone and moving around in your community, you can improve not only your physical health, but your mental health as well.
Outdoor living is a way of life in Tehaleh and the Tehaleh Homeowners Association have also created a few amazing events to help connect the community, including:
Movies in the Park
The Tehaleh Homeowners Association Events Committee turns Big Sky Park into an outdoor movie theater for Tehaleh families to enjoy a movie together complete with popcorn. This event is for residents only and admission is free if you bring a few school supplies. Your kids will love watching movies on the big screen under the stars.
Harvest Day
The annual Harvest Day shindig is open to the public and is one of the most popular community events in Tehaleh, hosted at the end of September to celebrate the anniversary of the community.
The event begins with a morning run along the scenic trail system including a marathon, half-marathon, 10k and 5k, where the Seattle Seahawks' own mascot Blitz may make a surprise appearance and give high-fives as runners cross the finish line.
For the rest of the day you can enjoy hot air balloon rides, live bands, local vendors, food trucks, horse-drawn country wagon rides, beer and wine gardens and more.
This popular event is a great way to get outside with your family and meet your fellow or future neighbors. Be sure to check out our gallery featuring photos from past events!
Camping
Camping is a great activity for any resident of Tehaleh, and with access to three car camping sites in Mount Rainier National Park, it's never been easier to get outside for extended periods of time.
Paradise is the largest draw for visitors since the park was established in 1899. Site of the historic Paradise Inn and Henry M. Jackson Memorial Visitor Center, the biggest draw of this area in the summer is the wildflower meadows that come to life with orange paintbrush, blue lupine, white-starred avalanche lilies and more.
At 5,100 feet, Paradise is also one of the snowiest places on Earth, receiving an average of 53 feet of snow per year. Because of this, you can expect to find snow here until mid-July. If you're looking for snow-free camping, the best time of year to go is mid-July to the end of August.
Ohanapecosh Campground
Ohanapecosh Campground is located on the southeast side of Mount Rainier National Park and is surrounded by old growth forest and crossed by a beautiful river.
The Ohanapecosh Campground is on the sunnier side of the park and during the summer it can see temperatures in the 60 to 80 degree range. At an elevation of 1,914 feet, weather can vary however, so campers should come prepared.
While there are no direct views of Mount Rainier from the campground, the mountain dominates the landscape in nearby areas of the park. The Ohanapecosh River makes its way by the campground, draining cold, clear water from higher elevations. Lined with old growth Douglas fir trees and other evergreens, this is a great area to spend some time.
Ohanapecosh is the most popular campground in the park. It houses 188 individual sites for RV or tent camping. There is drinking water, but no electric hookups. Sites come with fire grates and are $12 - $15 a night.
Cougar Rock Campground
Cougar Rock Campground is located on the southwest side of Mount Rainier National Park and is conveniently located near the Paradise area. Sitting at an elevation of 3,180 feet, the summers are dry and cool with daytime temperatures ranging from 60 to 80 degrees.
Cougar Rock has one lookout point from which campers can view Mount Rainier. Although peaceful now, the still active volcano last erupted in the mid 1800's. The campground sits adjacent to the Nisqually River and is surrounded by thick forests.
Cougar Rock Campground has 173 campsites, drinking water, flush toilets and picnic tables. This campground is one of only two campgrounds in the park with campsites that can be reserved, and is a great spot for experienced hikers and backpackers looking for access to the well-known Wonderland Trail, which encircles the park for 93 miles.
White River Campground
White River Campground is the highest of the three drive-in campgrounds, sitting at 4,232 feet and is located in the northeastern section of Mount Rainier National Park. Due to its high elevation, this campground is usually the last one to open and first to close for the season.
It is an ideal gateway to the backcountry for visitors who are looking to head out on a climbing adventure or explore the miles of excellent trails in the surrounding area. This is also a great spot for car campers as the amenities of Sunrise are located just up the road.
White River Campground houses 112 individual sites for camping and RV's and has no group sites. The costs per night are $12 and most sites are well placed for both privacy and scenic value. The campground boasts picnic tables, fire platforms, flush toilets, water, as well as close proximity to the White River itself, which allows little brooks to cascade through the area.
Horseback Riding
With some of the best horseback riding in Washington State located in the Crystal Mountain area on the northeast side of Mount Rainier, Tehaleh residents have yet more access to another amazing outdoor family activity.
Trails in this area traverse lowland forests to open alpine meadows, and quickly engulf visitors in a sense of tranquil calm.
With a number of horseback riding companies offering tours and excursions there's a trail for every level of ability, including companies offering children specific rides and instruction.
For more information on horseback riding in the Mount Rainier National Park check out these trails and companies.
Outdoor Workouts
Outdoor workouts in Tehaleh offer more enticing and rewarding benefits than a simple gym workout.
It's easy to get in a rut at the gym when time after time you're doing the same routine and your body knows exactly what to expect.
When working out outdoors, every time is different. From varied terrain, to varied weather, the great outdoors offers the challenge your body just might need. This challenge, in turn, blasts away calories faster than you ever could at a gym.
Nature is also a great way to combat boredom. Changing your routine by seeing new scenery, new faces and new animals can turn a grueling workout into an enjoyable experience. When you're distracted by your surroundings, you're less aware of your effort. Suddenly that 30 minute run can become a 60 minute run without even noticing.
While workouts can often be solitary endeavors, residents in Tehaleh are banding together led by resident fitness expert, Jaclyn Hahn. She is the owner of Evolve Strong Fitness and throughout the week, attendees participate in diverse and fun workouts that take place in Tehaleh's unique parks and trails.
Another Tehaleh resident, Gina Rittenhouse, has created a running group where homeowners of all ages get together several times a week to run the trails. Rittenhouse offers several free Tehaleh trail walk/runs for all skill levels.
Best in Golfing
Whether you're an occasional golfer or a scratch golfer, you'll find that Tehaleh is perfectly situated within minutes of some of the country's best golf courses. With a variety of courses to choose from, Tehaleh is close to world class venues including The Classic Club, Tapps Island Golf Course, Whispering Firs Golf Course and Chambers Bay, host of the 2015 US Open.
Discover Tehaleh's Animals
Living in the Northwest offers the opportunity to interact with wildlife on a daily basis. Friendly dogs are what you'll likely encounter most, as residents take their pooches out for a stroll but walks along Tehaleh's trail system can find you exploring new animals unique to the area. These animals can include:
Bald Eagles
Elk
Brown Bats
Cooper's Hawks
Deer Mouse
Banana Slugs
Additionally, Mount Rainier National Park offers an incredible opportunity to see a variety of wildlife including at the Oak Creek Wildlife Area on Mount Rainier's east side. Here you can see herds of Yakima Elk and Bighorn Sheep gathering for their supplemental winter feeding daily at 1:30 p.m. Onsite wildlife educators will teach you all about the local animals at the large viewing area and kids can enjoy the exhibits and kids' corner.
Winter Activities Around Tehaleh
Tehaleh residents are fortunate to live in close proximity to Mount Rainier National Park. This close proximity gives residents the opportunity to explore the park and take part in some unique activities.
While the cold winter months may have you wanting to stay in and hibernate, the natural beauty and accessibility to a large selection of winter activities inside and near Tehaleh will make it hard to resist getting out and exploring.
Snowshoeing
Snowshoeing is a great way to get outdoors during the winter months when you might otherwise feel stuck inside. Explore the wintry landscapes and burn more calories than walking, running or cross-country skiing. Here are some favorite trails suggested by the Washington Trail Association.
White Pass Nordic Centre is also a popular spot for snowshoe hikes through wooded snowscapes, where you can visit the warm Nordic Yurts for a coffee or hot chocolate after your travels.
Ranger Guided Snowshoeing Tours
For a more structured snowshoeing experience you can join a park ranger to learn how to snowshoe and discover how plants, animals, and people adapt to the challenging conditions at Mount Rainier in winter. These snowshoe tours are offered first-come-first-served from December to April (weather depending) on Saturdays, Sundays and holidays.
While no skill level is required to take part, participants must be over 8 years old, and physically capable of covering 1.8 miles in approximately 2 hours. Additionally, the park will provide you with snowshoes and asks for a $5 donation to help cover park costs.
Winter Camping
You can take part in winter camping with a permit almost anywhere in Mount Rainier National Park once snow depth has reached five feet at Paradise and two feet elsewhere in the park. A snow depth of eight feet is recommended before constructing snow caves at Paradise. You can find more detailed information on winter camping by downloading the Nation Park Service's guide.
Snow Play
The snow play park offers a great opportunity to get out with the family and do some sledding and sliding. The snow play area is located at Paradise and is generally open late December through mid-March depending on snow conditions, as a good snowpack is required to protect local vegetation.
Additionally, you can ski and snowboard at Mount Rainier National Park, however, certain snow conditions need to be met before you are able to take part. You can find more information by visiting the Jackson Visitor Center at Paradise (weekends and holidays) and the Longmire Information Center (daily).
Snowmobiling
If snowmobiling is a favorite winter activity of yours, you can take part in certain sections of the Mount Rainier Park. Remember to bring your snowmobile suit and dress in layers under your suit. Pro-tip: Avoid cotton materials as it will freeze if it gets wet. Stick with polyester blends to wick moisture away from your body.
Downhill Skiing
Tehaleh is conveniently located within reach of some of the area's best downhill ski destinations including:
Crystal Mountain – Washington's largest, highest lift-serviced ski resort is located on the northeast edge of Mount Rainier National Park and covers 2,600 acres with 50 runs.

White Pass – White Pass is the perfect destination for skiers of all abilities. With vistas of Mount Rainier, White Pass features the High Camp, a perfect midway meeting point for lunch, a hot beverage, or a nice cold beer.

The Summit – Boasting four base areas, The Summit has a wide diversity of skiing runs to challenge all skill levels. Uniquely, The Summit has runs open till 10 p.m. allowing skiers to try the thrill of night skiing.
Cross-country Skiing
Cross country skiing is a wonderful way to get out and enjoy the outdoors and is easier on your body than downhill skiing. Whether you're looking to push your endurance levels, or just out for a relaxing weekend adventure, Tehaleh residents can choose from unimproved terrain to well-groomed courses with several popular cross-country skiing destinations to choose from.
Ice Skating
Whether you want to speed around with hockey skates, or do triple Lutz's with figure skates, the ice arena near Tehaleh has you covered. Tehaleh residents enjoy the option of indoor ice skating at the Sprinker Recreation Center!
Getting Outside Increases Health + Happiness
It is common advice when someone is feeling stressed: "Get a breath of fresh air," or "walk it off." It turns out that advice may have been right all along.
A 2014 study by the University of Michigan found that group nature walks are linked with significantly lower depression, less perceived stress and enhanced mental health and well-being. Particularly, people who had recently experienced stressful life events like a serious illness, death of a loved one, marital separation or unemployment especially saw a mood boost after outdoor group walks.
In Japan, the practice of Forest Bathing has been proven to lower heart rate and blood pressure, reduce stress hormone production, boost the immune system and improve overall well-being.
Forest Bathing is essentially just being in the presence of trees. It became a part of Japan's national public health program in 1982 and since then has been studied rigorously and has been found to have enormous benefits to people's health.
According to the American Hiking Society, hiking and general outdoor exercise deliver a remarkable range of health benefits with little to no risks.
Additional physical benefits include:
Lose excess pounds – When hiking at a comfortable 2 MPH, a person weighing 150 pounds will burn 240 calories in about 80 minutes.

Prevents heart disease – By exercising, individuals significantly reduce their chances for heart problems. Exercise like hiking and biking can also decrease cholesterol levels, a common cause of heart disease.

Decrease high blood pressure – Research has shown that regular exercise such as walking lowers systolic and diastolic blood pressure.

Slows the aging process – Aging doesn't decrease the body's ability to be physically active and healthy but rather leading an inactive and unhealthy lifestyle accelerates the aging process.

Prevents osteoporosis – Hiking and walking help reverse the negative effects of osteoporosis by increasing the bone density and slowing the rate of calcium loss. This strengthens the bones and decreases their susceptibility to break.

Prevents and controls diabetes – Regular exercise, including hiking, can help prevent Type II diabetes and can protect the body from the degenerative effects of diabetes. For a person who has Type I diabetes, walking can reduce the amount of insulin the person needs. A person with Type II diabetes can actually reverse the course of diabetes through diet and weight loss.
These are just some of the additional benefits of getting outside and exercising, not to mention the healthy habits you create for life.
Living in Tehaleh can come with many advantages and, as it turns out, a healthy and longer life could be one of them.
With Tehaleh's natural setting, close proximity to an abundance of outdoor activities and a community that encourages togetherness, it's easy to see why homebuyers love living in Tehaleh.
Find adventure for you and your family today by exploring our new homefinder, or check out these move-in ready homes and make Tehaleh your next home.