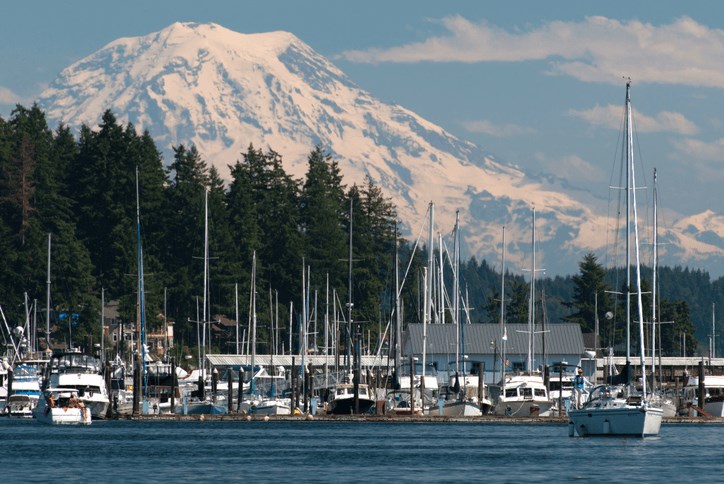 7 Reasons People Are Moving to the South Sound
1. Nothing Beats the Great Outdoors!
Biking, rock climbing, hiking, snowboarding, skiing, and water sports are all common hobbies of South Sound residents. Family-friendly trails offered around and at Mount Rainier have some of the most stunning views the Pacific Northwest has to offer. Seasonal skiers make frequent visits to nearby Crystal Mountain, which is known for its wide variety of terrain for both beginners and advanced runs. For water sports like wake-boarding, boating, and swimming, Lake Tapps has plenty of coves and inlets to keep outdoor enthusiasts interested.

2. Tacoma is the Art Glass Capitol of the US
Would you guess that the Pacific Northwest has a notable place in history for its Studio Glass production? Take a quick trip around town and you'll soon see that glass art plays an integral role in South Sound culture. The Museum of Glass was started by influential glass artist, Dale Chihuly, as a celebration of the city's artistic identity. With its iconic 90-foot stainless-steel cone and majestic outdoor art installations, it's obvious why this cultural landmark is a South Sound favorite. Inside, guests will find avant garde and whimsical rotating exhibitions. Things get pretty hands on inside the hot shop, where studio artists create pieces from molten glass in front of an audience.
3. Culture is Everywhere
If you are a live performance lover, take a quick trip to the Theater District in Downtown Tacoma and you're within walking distance of numerous performance venues like the Tacoma Opera, Tacoma Symphony Orchestra, and the Tacoma Comedy club; a local favorite. Jazzbones is a neighborhood staple known for booking notable, regional musicians. The South Sound is also home to several music festivals throughout the year, including Tacoma Jazz and Blues Festival and Freedom Fair. Even kids can participate in local culture by joining the Tacoma Youth Symphony or join Tehaleh's family-friendly, open mic night hosted by Caffé D' arte, during the summer, at The Post.

4. Museums Abound
Did you know Tacoma has an entire museum district? Shaped by Native American tribes, the Gold Rush, and maritime lifestyle, The South Sound has a rich and layered history. Visitors and residents enjoy rotating exhibits at the Tacoma Art Museum, Foss Waterway Seaport, Children's Museum of Tacoma and learn about cultural origins at Washington State History Museum.

5. There's Art Everywhere You Look
The South Sound loves its art! You can hardly turn a corner in Tacoma without coming across some impressive street art, a local art studio or a gallery. Thanks to the Tacoma Murals Project, 27 murals have been painted by local artists wanting to cover as much of their city in art as possible. Spaceworks Tacoma matches artists and creative entrepreneurs with spaces to practice their craft, creating a more vibrant and joyful city one empty wall at a time. The Tehaleh community has joined in on the fun, offering a graffiti wall adjacent to our skate park, The Edge, where residents of all ages freely express their artistic talents.
6. Your Money Goes Further
The commuter-buyer is a large segment of Pierce County. The current surge in King County pricing is driving thrifty Seattleites to the South Sound, where they can find an expansive inventory of larger, and more luxurious, newly built homes in thriving communities at affordable prices.

7. Seattle is a Just a Hop, Skip and a Jump Away
Not only is Seattle a quick 45-minute drive, but it's also a world class city with amazing attractions. Day and weekend trips are simple to plan and there's an endless list of activities for both locals and tourists. Visit the iconic Space Needle, take a walk down Pike Place Market, or follow Travel and Leisure's suggestions for a lovely weekend getaway in the Emerald City.
Seattle commuters beat the traffic by hopping on the Sounder train, which offers express service to and from the South Sound weekday mornings and afternoons.

Are you ready to explore a South Sound lifestyle? Tehaleh is the best-selling community of new, single-family homes in Washington. Stop by our Visitor Headquarters, The Post, to learn if a new home is right for you!