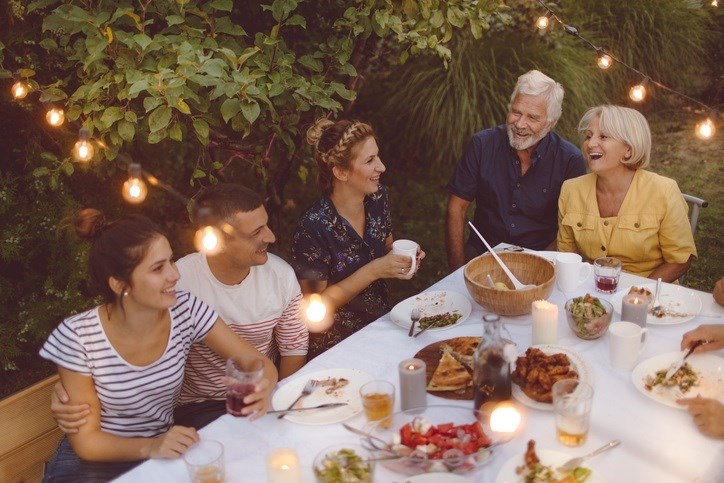 How to Throw a Fall Equinox Party
Whether you think of it as the last day of summer or the first day of autumn the fall equinox is a time of reflection and new beginnings. What better reason to gather your loved ones and celebrate mother nature? An outdoor party with bright colors and happy friends is a perfect way to welcome the new season. You can make it as chic, rustic, or luxe as you want. So, send out those evites, then follow this guide for creating a delightful backyard bash.

Set the Scene
Whether it is a fire pit, great view, or a simple picnic spot, arrange your tables and seating to maximize the centerpiece of your yard or patio. Mix patio furniture with your favorite indoor chairs, pillows, and throws. A table runner or patterned fabric adds a pop of color and texture on your tables. Use a theme color as a ribbon throughout your space to tie it all together.

Bring the Inside Out
Bringing the indoors outside makes entertaining easy and encourages your guests to relax. Keep an eye on varying textures, height, and patterns in your décor. Maximize space by enhancing areas where people will naturally want to gather. Bring out your favorite candles, pieces of art and potted plants to display on your dining table, or lean a mirror against a wall or tree and drape it with greenery and flowers from your yard to make a small space feel bigger.

Plan for a Chill
It is also a good idea to have a basket of blankets or shawls handy in case nighttime temps cool down. Hang a few decoratively over chairs or benches for easy access.
Create a Cozy Glow
Market lights are a popular choice for outdoor spaces and are such an easy way to add ambiance! You can use them to help define the space and set the mood. Pair with candles for a festive glow. Good lighting adds an enchantment factor to your gathering and encourages guests to linger outside. Add in some relaxing tunes, and you and your guests are in for a sensational solstice soireé!

Takeaway Memories
Keep that magical feeling going by sending each of your friends home with a little treat to remember the evening. A mason jar filled with wildflowers and tied with a brightly colored ribbon or a baby pumpkin with an uplifting, painted message are a charming solstice takeaway.