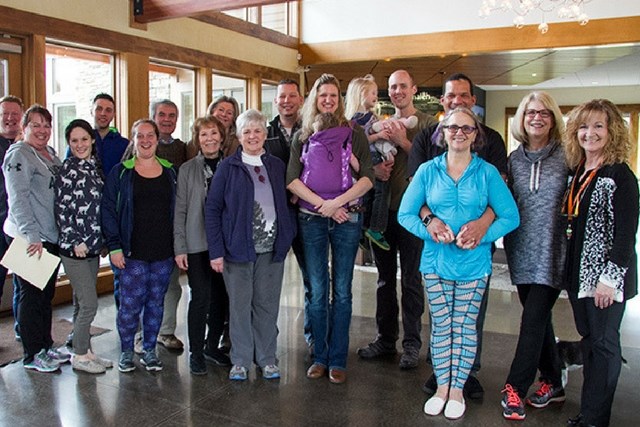 GOT QUESTIONS? WE'VE GOT AMBASSADORS!
Looking for the real dirt on the Tehaleh lifestyle? Look no further than the resident volunteers who make up the Tehaleh Ambassadors. Each Ambassador offers a unique perspective and can share what drew them to the community, provide honest feedback on their builder experience, point you to the parks with the best views of Mount Rainier, and ease any worries you have about making new friends (spoiler alert: it's easy to make friends here!).
Ambassador Sonja Rowland knew she wanted to live in Tehaleh when she first saw an article about the community in The Seattle Times. She loved the idea of buying a home by Lennar in the close-knit community. The surrounding nature and award-winning school were ideal for her ten-year-old granddaughter. The next step was convincing her husband Dennis to make the move. "He wasn't so sure about living in Bonney Lake," said Sonja. "We drove out on a beautiful day with our checklist and open minds." Then Dennis caught sight of Mount Rainier. "That's when I was sold," laughed Dennis.
The Rowlands became Ambassadors soon after moving to Tehaleh, and have been offering their frank advice and inspiring both current and potential residents with their enthusiasm for the community. Dennis enjoys sharing his tips on commuting to Seattle, which was one of his top concerns before making the move. He takes the Sounder train from nearby Sumner station. "The train is such a blessing, I can't even believe how much I love taking it!" he exclaimed.

Sonja loves all of the resources available in the community, as well as the events and activities throughout the year. "Newland does an excellent job of finding ways to keep the neighborhood connected," said Sonja. "Because of this, my granddaughter's Girl Scout troop grew from 7 to 30 members in just one year."
Laura Ryall didn't have to persuade her husband to live in Tehaleh. After driving around for a year looking for a home, they passed a Tehaleh billboard, and decided to take a look. "We fell in love with what we saw," said Laura. "As soon as we got our keys and walked through the front door, Tehaleh felt like home. I still carry that feeling in my heart every day."
The Ryalls bought their home in January of 2014, and marveled at the beauty of the forest atmosphere right in their backyard. "I drink my coffee outside on the patio year-round," said Laura. "I enjoy the forest views so much." Laura and her husband worked with their builder to customize their home. "The builder was fantastic," explained Laura. "They let us modify some design elements and add more windows to our den, so that we could really be surrounded by nature."

Having retired early from her position at a fast-paced technology job, Laura wanted something to fill her daytime hours. "I'm a very social person, but having moved from Alberta, Canada, I didn't know a soul in Washington. One day, I stopped into The Post and asked Kendra, the manager of Caffe D'arte, if she was hiring," said Laura. "She hired me and now I get to talk to people about Tehaleh all day long! Visitors ask about the outdoor lifestyle here, but they may also be open about their apprehensions – whether their kids will adapt well to the community, or how to get around the region. I love to help answer those questions too!"

Do you have unresolved questions or lingering thoughts about making the move to Tehaleh? Let us know, and we'll set you up with an Ambassador for some candid conversation. Visit The Post today to learn more.
Want More Information?
Please click below to contact our team and we will be happy to answer any questions you have!
Contact Us