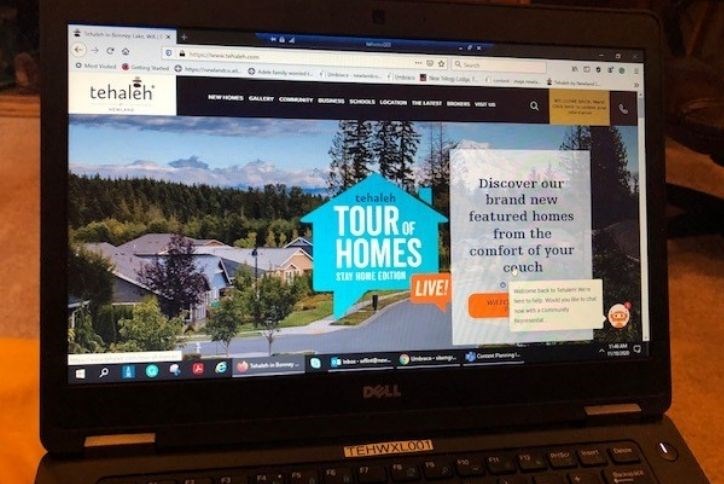 Satisfy Your Online Searchers
Has the pandemic changed most, if not all, of your clients into online search experts? Use this new preoccupation to your advantage by guiding them to the online tools Tehaleh offers. Listed below are three examples of who might benefit.
Online House Hunters
For your clients who are always online, looking at listings, searching for their dream homes, tehaleh.com is the place to be. With the choice of eight builders, different price points, and various designs, they should be calling you with enthusiastic anticipation. Live Chat makes it easy to have questions answered on the spot by knowledgeable Community Representatives. Quick Move-Ins are updated regularly along with community information that will entice your clients to explore the amenities that make Tehaleh so unique.
 Online Open House Seekers
Everyone loves to walk through model homes.  As a person on a housing hunt, it is necessary. The new Open House is a hybrid online and offline version that can benefit real estate professionals by allowing clients to virtually walk through their favorite floor plans at their leisure. Encourage them to take the Tehaleh Tour of Homes and watch their excitement grow.
Amateur Appraisers
Home-value estimates on various real estate sites cause some people to fixate on the value of homes. You can be assured the Tehaleh.com website updates home prices on a regular basis.
Tehaleh.com can be the one-stop-shop for your online real estate search clients but making an in-person appointment at The Post is also a great idea. Our Community Representatives are available seven days a week for those who still want to have one on one consultations. We look forward to hearing from you and your clients!
Want More Information?
Please click below to contact our team and we will be happy to answer any questions you have!
Contact Us