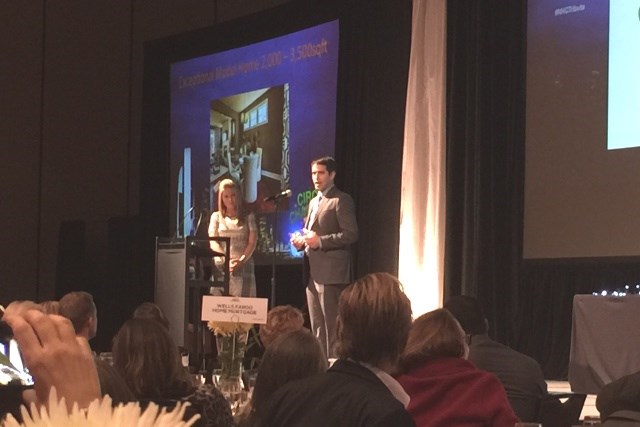 Azure Northwest Homes Awarded for Exceptional Model Home
Tehaleh builder, Azure Northwest Homes took home the prestigious award for Exceptional Model Home at the Seventh Annual New Home Council Tribute Awards in October. The model home is a reflection of the experience Azure sought to create for its prospective buyer - a home that meets their needs, can flex to respond to changes over time, and suits the outdoor-oriented lifestyle of the region and in particular, the Tehaleh community.

Azure's model home, the Copper Mountain plan, introduces buyers to the unique features of Azure's homes at Tehaleh. The team created a welcoming, comfortable floorplan as well as staging design that reflects the way buyers will actually live in their homes including larger pantries, mudrooms and outdoor space.

"Our floorplans embrace transitional design concepts. The interiors of our homes are fresh, contemporary spaces with clean lines that appeal to buyers with traditional or modern taste," said Isaac Stocks, principal of Azure Northwest Homes.

To set Azure apart from the other model homes in Tehaleh, the staging team created essential memory points throughout the home: in the kitchen, a custom painted chalk wall includes a height chart with charming handwritten measurements capturing the sentiment of a family growing together in the home. Upstairs, a Sounders theme with a larger-than-life Clint Dempsey decal in one bedroom celebrates local sports.

A key element of Azure's design in Tehaleh is indoor-outdoor living. An outdoor fireplace and covered seating area has magazine-worthy appeal with vibrant colored cushions and cozy chairs.

The room which generates perhaps the strongest buyer sentiment is the combination mud room/laundry room. Designed as another inviting entry point for the home, the space includes pet-themed decorations, and cushions to highlight built-in seating above cubbies.


Want More Information?
Please click below to contact our team and we will be happy to answer any questions you have!
Contact Us
Categories