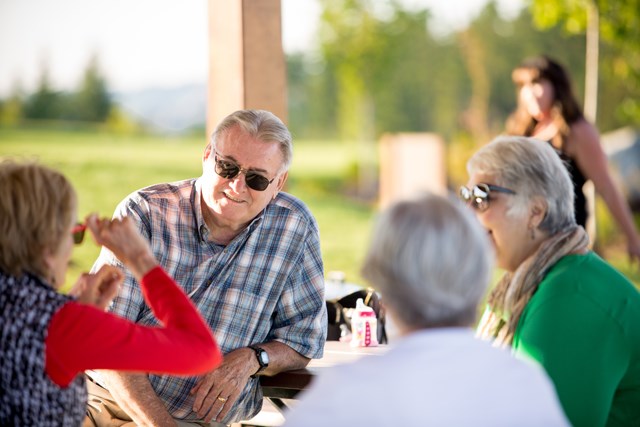 From Generation to Generation, Something for Everyone
"We've always been a close family, but once we had grandchildren, we knew we needed to live closer to our kids," said Terry Peters. "You just don't want to miss those incredible moments."
Terry and her husband David realized their dream when both she and her daughter, Abbey White, purchased homes in Tehaleh. "We're so lucky," said Terry, "We can literally look out the window and see our daughter's house."
The Peters moved into their single story home in 2013. They had previously lived in Anacortes, and David was hesitant to leave their house with a view of a lake.
After his first visit to Tehaleh, he changed his mind. "It feels like Mount Rainer is watching over us here," he said. With plenty of options, they selected a floor plan she knew would accommodate the entire family. Terry, a retired teacher, and David, a retired principal, delight in the sounds of their grandchildren chasing each other through the house.
 "The layout is perfect," she said. "I love that you walk in the door, and it's open and inviting. The living room is so spacious; we have three couches! We can all be here together."
David can be seen driving around Tehaleh, picking up his grandson and friends after school at Donald Eismann Elementary, located within the community grounds.
"After school, our 9-year-old grandson comes over to do his homework or outside to Big Sky Park to play with friends," said Terry. "We pick up our 4-year-old granddaughter from pre-school and have lunch together or a hot chocolate at The Post. We get to be a big part of their childhood." Having two generations of family at Tehaleh also makes it easy for them to connect with others in the community.
 "I get to watch my daughter form strong friendships," said Terry. "She had a cookie party and showed other Tehaleh moms how to make healthier treats. It was so much fun," David added.
"Our kids plan parties at our house! They bring friends over to watch football games and sit in our hot tub." Terry points out that the neighbors give back to them too. "We're older, and once when it had snowed, I woke up to see that our sidewalks had already been shoveled."
The Peters take advantage of all Tehaleh has to offer. They walk the trails, check in on their neighbors and stop at the skate park to visit with the older kids. "I want them to have a sense of community and feel like they belong here too."
Want More Information?
Please click below to contact our team and we will be happy to answer any questions you have!
Contact Us
Categories