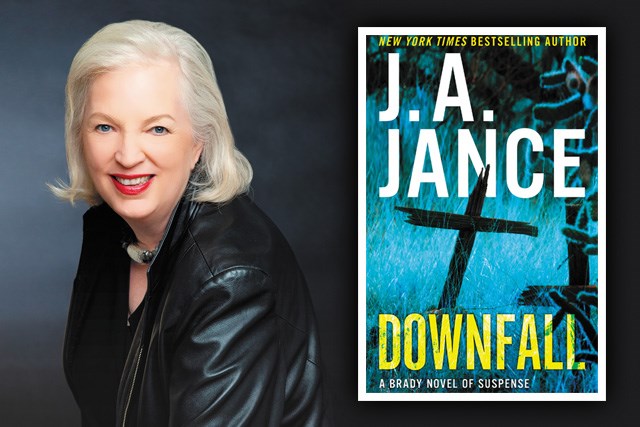 J.A. Jance Book Tour Stops in Tehaleh
"Jance once again takes readers along a fun mystery ride with just the right amount of action and suspense. Brady is…a strong female lead character who is both relatable and realistic; Jance has done a phenomenal job of developing her as a character. When the author throws in her classic twist, it is something that no one sees coming." —RT Book Reviews, 4 star review

Meet New York Times bestselling author at The Post as she promotes her latest suspense novel, DOWNFALL. Paced at breakneck speed, DOWNFALL is everything readers have come to expect from a Jance novel.
 
Downfall Book signing
Tuesday, September 27, 2016
1pm
The Post in Tehaleh
For more information click here – link to blog post
*Books will be available for purchase.

In this latest installment, Cochise County Sheriff Joanna Brady has a lot on her plate. Pregnant and gearing up for a reelection bid, Joanna is managing multiple cases plus trying to be a wife and a mother to her college bound daughter and rambunctious five-year-old son. But when a personal tragedy forces her to the sidelines, she's torn between the duty to her family and to the people she's sworn to serve and protect.
 
Joanna's decision between family and the force is made for her when a puzzling new case comes in over the radio: the bodies of two women have been found at the base of a nearby peak, known to Bisbee locals as Geronimo. Is this a terrible accident, a case of murder/suicide, or a double homicide? Tracking down the truth will soon demand every resource Joanna has at her disposal including help from neighboring law enforcement agencies and the Feds.
 
With very little physical evidence at the crime scene and no witnesses or leads to go on, the case gets murkier when its discovered that one victim was a local teacher and minister's wife, while the other was a brilliant microbiologist working towards her Ph.D.—two vastly different women with seemingly no connections to link them. It isn't until Joanna and her deputies dig deeper that a startling picture of betrayal, jealousy and violence begins to emerge.
 
As Joanna and her team methodically hunt for answers, a knotty web of sordid relationships and malicious lies comes to light. And as they'll all soon learn, sometimes it's those closest to you that harbor the darkest of secrets.
 
J. A. Jance is the New York Times bestselling author of the J. P. Beaumont series, the Joanna Brady series, the Ali Reynolds series, and five interrelated thrillers about the Walker Family as well as a volume of poetry. Born in South Dakota and brought up in Bisbee, Arizona, Jance lives with her husband in Seattle, Washington, and Tucson, Arizona.


Want More Information?
Please click below to contact our team and we will be happy to answer any questions you have!
Contact Us
Categories