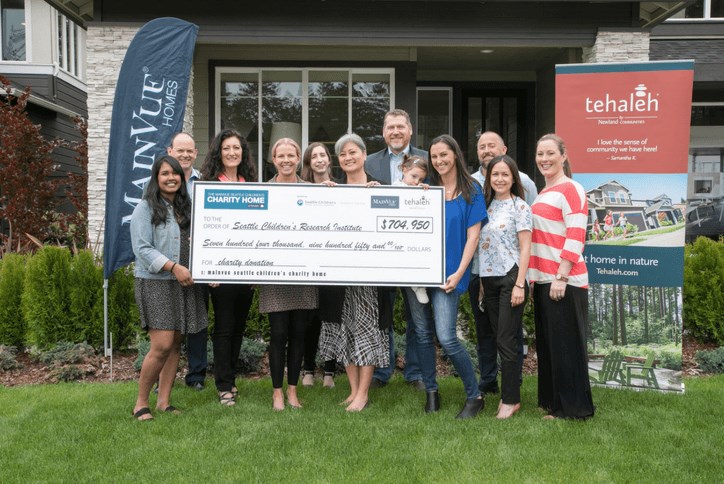 The Children's Charity Home Has Sold!
"Charity begins at home", or so the saying goes, but for the partnership between Tehaleh, Mainvue Homes and Seattle Children's Hospital, charity began with a home…literally.
We are extremely excited to announce that the MainVue Seattle Children's Charity House at Tehaleh has officially sold! Newland donated land parcel (an $80,000 value) along with the 4,000 square foot home raised $704,950 and every dollar will be going directly to Seattle Children's Hospital, benefiting Strong Against Cancer and The Research Discovery Fund. By supporting Seattle Children's Research Institute, MainVue Homes and Tehaleh by Newland are helping doctors and researchers provide better care and more cures creating positive changes - both now and into the future.
"Seattle Children's dedication to research has been amazing and through these donations we've been able to fund these clinical trials that have made improvements in patient care," said Dr. Navin Pinto of Seattle Children's Hospital. "Without philanthropy, I think we would be falling back into the Ice Age's of cancer care. This donation helps tremendously."
"Everyone involved just loves the idea that we're going to help children," said Jennifer Clarke, sales manager for MainVue Homes. "If we can better their lives or maybe save a child's life, it's an amazing feeling."
"This is a remarkable partnership and truly unique as 100% of the proceeds were donated", said Eve Kopp of Seattle Children's Hospital. "Every dollar in funding we receive goes towards saving lives."
MainVue Homes and Tehaleh would like to thank all the entities involved in this project who donated their time, energy and assets and sharing the company vision that if we can improve just one child's life the effort is more than worth it!
Want More Information?
Please click below to contact our team and we will be happy to answer any questions you have!
Contact Us
Categories