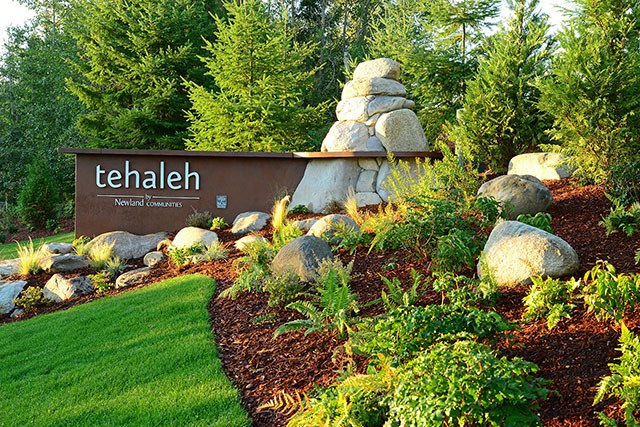 Newland Announces Builders for Tehaleh
PIERCE COUNTY, WA – June 26, 2012 – Newland has officially announced its home builder partners for the first phase of Tehaleh, the 4,200-acre mixed-used community in Pierce County. The group of four includes local, regional and national builders: Lennar, Richmond American Homes, Quadrant Homes and Benjamin Ryan Communities.
Tehaleh will open early this fall, offering homebuyers a wide array of home styles and designs. All of the builders will offer homes in each of Tehaleh's four initial neighborhoods. The first homes will be available for pre-sale this summer and will offer flexible floor plans from 1,350-3,300 square feet at price points starting at $210,000.  On opening day, the community will also offer nearly 10 miles of trails, six parks and acres of open space. The centrally-located village center, adjacent to the fully operational Donald Eismann Elementary School, will feature a café, information center and outdoor warming hut.
The community's single family homes have been designed specifically for Tehaleh.  The architecture of the homes is based on historical styles reminiscent of the region's finest old neighborhoods. Streetscapes within Tehaleh are carefully planned and compliment the home types with both access from alleys and the street.  The community will also include a neighborhood geared towards residents age 55 and older. Newland is working with a fifth builder that caters to active adults; that builder will be announced within the next two months.
"We are excited to work with such a highly regarded group of builders," said Scott Jones, Vice President and General Manager for Newland. "This is a stunning piece of Northwest property and we look forward to working together to create a community that captures the feel of the surrounding forest and offers homeowners a selection of home styles. We are already getting a great deal of interest in the community from the public through our website, Tehaleh.com."
Lennar, Richmond American, Quadrant and Benjamin Ryan will break ground on model homes in Tehaleh next month in anticipation of Tehaleh's grand opening.
"I am excited to see Tehaleh up and running," said Pierce County Executive Pat McCarthy.  "The construction will create good, family-wage jobs that benefit our local economy. And the result will be a community that accommodates housing and job needs for our growing population in a smart, self-sustaining way."
"Tehaleh is a Northwest gem and we've known we wanted to be involved since it was announced," said Mark Gray of Quadrant Homes. "We recently debuted a new collection of homes that capture the essence of the Northwest.  Our 'Built Your Way' homes have been developed in direct response to feedback we've received from Northwest homebuyers on how they want their homes built."
In preparing to launch Tehaleh, Newland explored more than a dozen builders before selecting the final five. Builders were selected based on their reputations for excellent workmanship and customer service as well as their ability to meet the timing demands of the project. All homes in Tehaleh will meet Built Green standards outlined by the Master Builders Association of Pierce County and will offer a range of architectural designs and color palettes.  A portion of the community will feature homes and amenities geared towards buyers aged 55 and older.
"As a locally-owned, family-operated company with years of experience building in the greater south Puget Sound area, we're excited to help shape this new home community in Pierce County," said John Bays, General Manager of Benjamin Ryan Communities (formerly Builders of America). "Tehaleh is our first big project under our new name, and we look forward to debuting our new approach to homebuilding there. We're going to build some incredible homes in this incredible community."
Together, Lennar, Richmond American, Quadrant, Benjamin Ryan and the fifth builder, to be announced, will build the more than 350 homes in the first phase of Tehaleh. Tehaleh is planned to grow to approximately 5,900 homes over the next 20-25 years and will also contain extensive commercial/retail space, schools, parks and a network of trails that highlight the community's wooded surroundings.
About Tehaleh: Tehaleh (TAY-HA-LAY) is a 4,200-acre planned mixed-use community 45 miles from Seattle and 20 miles from Tacoma, Washington. Tehaleh is planned to have approximately 5,900 homes, a 419-acre employment center with 3.9 million square feet of commercial/retail, a fire station, up to seven schools, over 1,000 acres of parks and open space and an extensive network of trails. Tehaleh is developed by Newland, the largest private developer of planned residential and urban mixed-use communities in the United States. To learn more about Tehaleh, visit www.tehaleh.com.
About Newland: Newland is a diversified real estate company leveraging a national platform and over 40 years of experience to perform challenging and diverse development, investment, management, and advisory services across a wide range of real estate. The company's mixed-use development business, Newland, is one of the largest privately held land developers in the U.S., currently developing master-planned communities in 14 states. Newland is currently developing or entitling four communities in Washington and Oregon, and was the developer for the recently sold-out River Rim community in Bend, Oregon. Headquartered in San Diego, Calif., Newland and its affiliated companies have completed, or have underway, more than 140 diverse real estate developments, more than 20 million square feet of commercial and retail space, and 175,000 residential units in 14 states. www.newlandco.com
About NORTH AMERICA SEKISUI HOUSE, LLC (NASH): NASH is the U.S. business operations unit and a full subsidiary of SEKISUI HOUSE, LTD., Japan's largest homebuilder and a leading diversified developer since 1960. NASH establishes joint ventures to build innovative and sustainability-conscious master planned communities. NASH is headquartered in Arlington, Virginia, and SEKISUI HOUSE is headquartered in Osaka, Japan, with affiliates and subsidiaries around the globe. www.nashcommunities.com
###
Want More Information?
Please click below to contact our team and we will be happy to answer any questions you have!
Contact Us
Categories