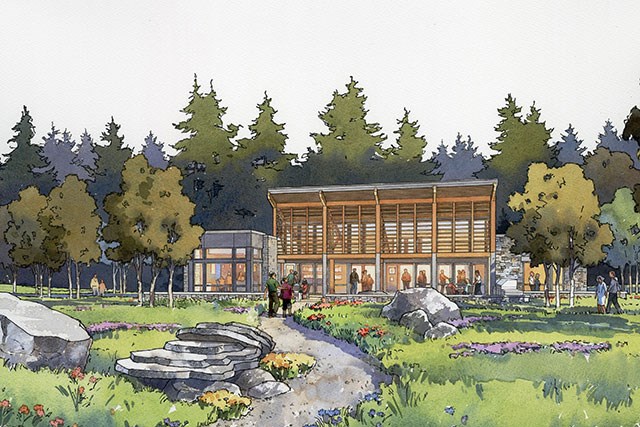 Newland Experts in Creating Communities

By Candace Brown
Showcase Magazine
For two decades, the vision of a master planned community called Cascadia—on 4,200 acres in east Pierce County— waited in limbo before being lost to the nation's banking crisis. Then in 2011, a company called Newland purchased the property, renamed the project "Tehaleh" and launched into the first phase of development with vigor. At the grand opening in late summer of 2012, visitors will see about a dozen spec homes by six different builders, plus the Welcome Center and amenities like parks and trails. One elementary school already exists on the property.

"We are excited to be able to bring this community back to life," said Newland's vice president and general manager, Scott Jones. The completion of all phases will mean 9,000 homes of varying designs, styles, sizes and price points, including multifamily—either condos or rentals—as well as seven schools, retail and other businesses, and a fire station. Eventually, a 10-mile trail system will connect a series of parks, with six parks being built in the first year.

"There's a significant amount of commercial land available," Jones added. "We have 420 acres of the property set aside for an employment center, so there's opportunity there for light industrial, office and retail components as well."

Newland has a 40-plus-year track record of creating communities people love, said Jones. The company has 40 projects active around the country, in 14 states, and the same CEO it started with in 1968: Robert B. McLeod. "We estimate that we've built 175,000 single-family and multifamily homes over the last 40 years and 20 million square feet of commercial development," Jones said. "Newland has learned from experience," he said.

"We've learned to listen to what people want," he continued. "We are focused on consumer research and reaching out to buyers and potential buyers, understanding what is important to them, understanding why they would want to live or work in the community that we're developing." Before beginning Tehaleh, the company interviewed 1,200 people in the Seattle/Tacoma area, for 17 minutes each.

When asked what sets Newland apart, Jones said, "It is our people and our leader and what we use as our vision statement: 'We love creating incredible places.' The 250 people who work at Newland really do live that every day. We truly believe that." He encourages people to come take a look, confident that Tehaleh will make them believers too.
Want More Information?
Please click below to contact our team and we will be happy to answer any questions you have!
Contact Us
Categories