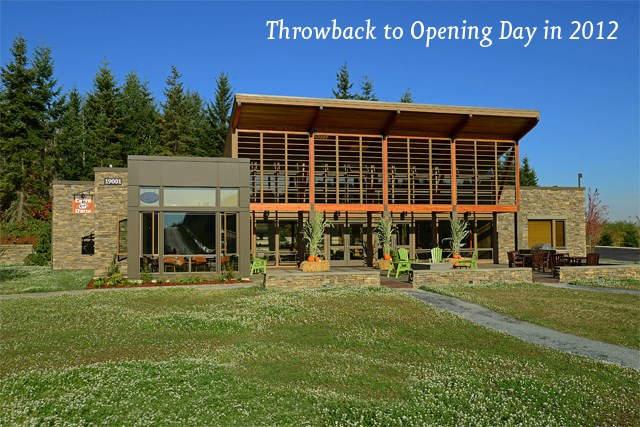 Founding Families Reflect on Five Years
A lot has changed in the five years since Tehaleh opened its doors. The community has added more parks, trails, and, most importantly, many new neighbors, forming the vibrant, thriving "city among the trees" that Tehaleh is today. We got in touch with a few of our first residents to hear their memories
of Tehaleh "way back when" in 2012:
The 26-Year-Old Whose Dream Came True
Moms always know best – and Tehaleh resident Jay Bradley can attest to that. When the then-26-year-old's mom found out about Tehaleh's grand opening home giveaway contest in 2012, she told her son he should enter. Bradley never thought he'd actually win.
"I definitely didn't expect to own a house at that point in my life," says Bradley, who had been out of college just two years when he competed against 1,400 others to win a home at Tehaleh.
After he won, Bradley was able to select his builder, lot location, floor plan, and finishes to create his dream home, complete with two master bedrooms – so his mom could move in, of course. "It was a completely
life-changing event," Bradley says. "And personalizing my home meant I got exactly what I wanted."
Since moving to Tehaleh, Bradley says he's watched the community grow around him, and with it he's formed a close-knit group of what he says are "more than just neighbors. We have gatherings, dinners,
get-togethers—we even throw birthday parties for each other. Without the house, I wouldn't have the great friendships I have now."
The Very First Family
Stacie Scarpaci and her family have also formed close ties in the neighborhood, but it took a bit of patience. The Scarpaci family moved to Tehaleh on a snowy December day in 2012—and they were the very first family to live in the community. While The Post and Donald Eismann Elementary were already built, for the first month, the Scarpacis had no neighbors. "It was so strange to be out here by ourselves when evening came and the construction crews and everyone else went home," she said.
Since then, they've watched Tehaleh grow around them and develop into a tight-knit community. "It was so nice to look outside the window one day and see that we had neighbors," Stacie said. Now, her daughters enjoy exploring nature on the Tehaleh trails and making new friends while riding scooters and playing at their favorite park Sprouts Holler. She says her family fell in love with Tehaleh on day one.
"You just can't compete with Tehaleh," she said. "It's perfect for the kids, we love our home, we love our neighbors – you just can't find that anywhere else." One of her other favorite things about the community? The Mt. Rainier views. "The view leaving Tehaleh is amazing. Those clear mountain days are the best."

What do the next five years have to offer? To find your place in the Tehaleh community, visit our Homefinder.
Want More Information?
Please click below to contact our team and we will be happy to answer any questions you have!
Contact Us
Categories