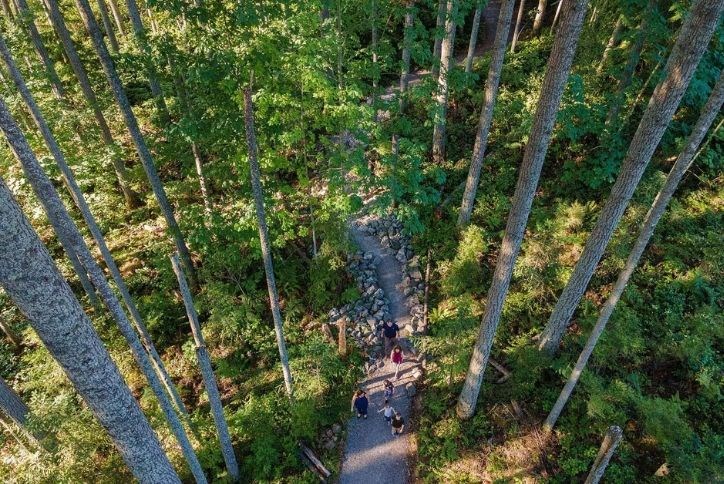 Parents Find Their Village In Tehaleh
Nestled in the shadow of Mt. Rainier, a close-knit community is flourishing in Tehaleh, where parents have found their village – a thriving family support system formed through connections with other parents.
Tehaleh resident, Cassidy Balcom, reflected on one of the challenges of motherhood. "Being a mom can be kind of isolating," she said. That's where the other parents in Tehaleh have filled in. "It's been nice to have people around that are invested in our kids and truly care about our family."
A mother of two young girls, Cassidy has lived in Tehaleh since November. On her first visit, from nearby Lake Tapps, she toured the model homes and spent hours playing in the parks with her girls. Cassidy called her husband and said, "You have to come see Tehaleh!"
After a few more visits, they selected the Bainbridge home by Lennar, falling in love with the open floor plan that features an attached private "mother-in-law" suite on the main floor. Cassidy's grandmother is now able to live with the family and also have a space of her own. "She's a widow and we wanted to take care of her – it's turned out to be really fun. She does arts and crafts so she'll have the girls baking and sewing. We just love to have her around," Cassidy said. She appreciates the valuable family time and the opportunity to have occasional date nights with her husband since her grandmother can watch the girls.
At first, Cassidy was surprised by the strong friendships they were making. "We didn't really realize how much we'd be hanging out with our neighbors until we actually got here. We've made family friends for me and my husband, and for the kids," she said. "They're friends that we can't imagine doing life without!"
She's come to rely on fellow Tehaleh parents to jump in and help out when needed. "If one of the kids is sick, somebody comes and takes our other daughter to the park or on a bike ride," Cassidy said. "I've met people who are in the same season of life, where we can all hang out and live our lives together."
The resources within Tehaleh also help to form natural meeting points. "With little kids, it's so nice to be able to walk out the front door and head to a park – we like to picnic, geocache, and look for animal tracks," said Cassidy. The trails wind through the neighborhoods, parks, and to Caffé D'arte, a popular destination for morning coffee and good conversation.
Looking for a new home in a tight-knit community? Click here to visit our Homefinder today.
Want More Information?
Please click below to contact our team and we will be happy to answer any questions you have!
Contact Us
Categories