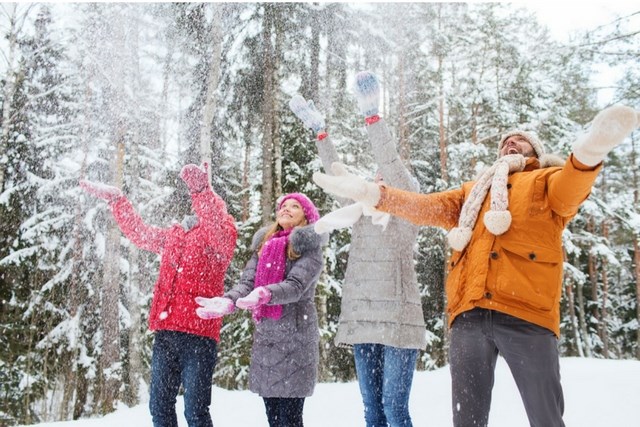 Mt. Rainier Adventures Await You
Stunning, breathtaking, jaw dropping – those are a few adjectives we've heard that describe the Mt. Rainier view from Tehaleh. Residents and visitors alike enjoy views of the snow-capped peak as they head out for a run on the 30+ miles of trails, play at one of our 13 parks, or enjoy a mocha from Caffé D'arte at The Post. But, why not explore some cold-weather activities up on the mountain itself? There's something for everyone to enjoy, from the littlest ones in your family to the most daring adventurers. So, let's gear up and get ready to go!
Play in the snow
For those who love sledding and snowshoeing, head on up to the Snowplay Area at Paradise. Located north of the upper parking lot at Paradise, this is non-stop fun for all ages. Bring your own or rent inner tubes and sleds outside of the park at Whittaker's Mountaineering in Ashford. Then, get ready for major thrills as you zoom down the hill!
Ride the Mt. Rainier Gondola
Looking to be wowed by the view? Hop on the Mt. Rainier Gondola at Crystal Mountain Resort and enjoy the scenic trip as you travel 2,500 vertical feet up to the summit as skiers and snowboarders whiz down Crystal Mountain below. Perfect for foot-passengers (non-skiers), it's a twelve-minute trip to the top of the mountain, where you can enjoy a close-up view of Mt. Rainier and the Cascades before heading inside for a bite to eat at the Summit House (perched at 6,872 feet, it's the highest elevation restaurant in Washington!)
Watch an epic elk feeding
Head on over to the Oak Creek Wildlife Area on Rainier's east side to catch a glimpse of the herds of Yakima elk and bighorn sheep gathering for their supplemental winter feeding daily at 1:30 p.m. Learn from wildlife educators at the large viewing area, and take the little ones to the exhibits and kids' corner.
Snowshoe at White Pass
It's time to hit the slopes! Head on out to the White Pass Nordic Center for amazing snowshoe hikes through wooded snow-laden forests and have your camera close-at-hand for the loop around a scenic alpine lake. And don't forget the coffee and cocoa in the friendly Nordic Yurts!
Indulge yourself at a spa
There's truly something for everyone on Mt. Rainier. Maybe a spa day is more your speed? Enjoy sky-high rest and relaxation at the Spa at Stormking. Treat yourself to a massage, soothing soak, or a beautifying body polish in a spectacular setting. You're sure to leave feeling refreshed and pampered.
Spend a cozy night at Mt. Rainier
After a long day of winter fun, kick off the skis and snowshoes and settle in for a cozy night. What's your style? The options on Rainier include a resort room, rustic cabins, vacation rentals, and bed and breakfasts. Cuddle up by the fire and spend the evening savoring a day well-spent.
Want More Information?
Please click below to contact our team and we will be happy to answer any questions you have!
Contact Us
Categories