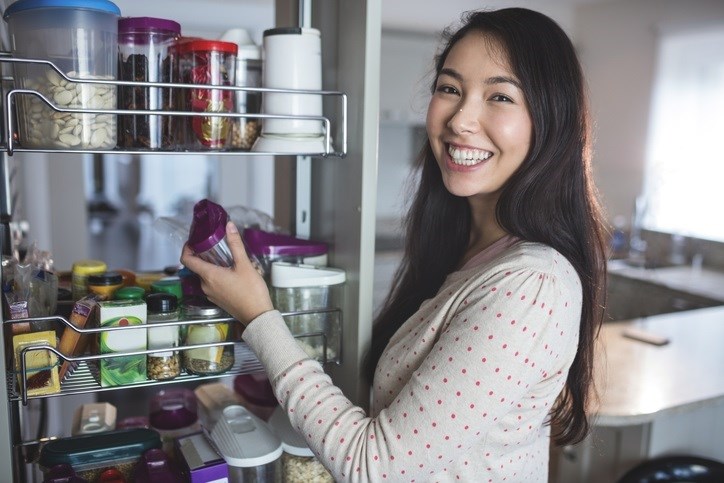 Reinventing Your Kitchen: Part One
The kitchen is the heart of the home and a well-planned space will streamline food preparations, cooking, baking, and cleaning, while maximizing time efficiency. A cluttered kitchen can be downright maddening, but these tips will help you get your most used and hard-to-keep-clean room organized for good!
Start with a Plan
Before pulling everything out of the cabinets and drawers, begin by writing out a plan. As you plan, consider how many cabinets and drawers you have. What needs organizing? Where will you place your zones? How many gadgets, small appliances and dishes can you purge to create more space? Write out your ideas and detailed plan on paper before implementing. Once you've done all of this, it's time to get started.
Arrange into Zones
The kitchen functions at its best when it's set up by zones. There are 5 main zones: Cooking, Preparation, Cleaning, Storage, and Food. All items within the kitchen should fit into one of these five categories.
The Cooking Zone This space should include spices, oils and vinegar, cooking utensils, pots and pans, pot holders, etc.
Preparation Zone Everything needed to prep meals are included in this space. Items include mixing bowls, knives, cutting boards, kitchen gadgets, blender, etc. Some areas within this zone are the baking and school lunch stations.
Cleaning Zone All things related to cleaning your kitchen should be included in this zone as it's typically near the dishwasher and kitchen sink. Categories include kitchen cleaners, under the sink items (sponges, paper towels, microfiber cloths, trash bags, dishwasher detergent), recycling bin and trash can.
Storage Zone Items found in this zone include food storage containers, silverware, dishes, glasses and small appliances.
Food Zone The pantry is considered the food zone. If you don't have a pantry, designate a few cupboards or a standing cabinet to store food.
Separate Lids From Bases
Whether you prefer plastic or glass, most food storage containers consist of two pieces, the base and lid. Gain control of this area by storing lids separately, in a designated basket or tucked inside a hanging door organizer. Maximize space by stacking reusable containers by size.
Want More Information?
Please click below to contact our team and we will be happy to answer any questions you have!
Contact Us
Categories