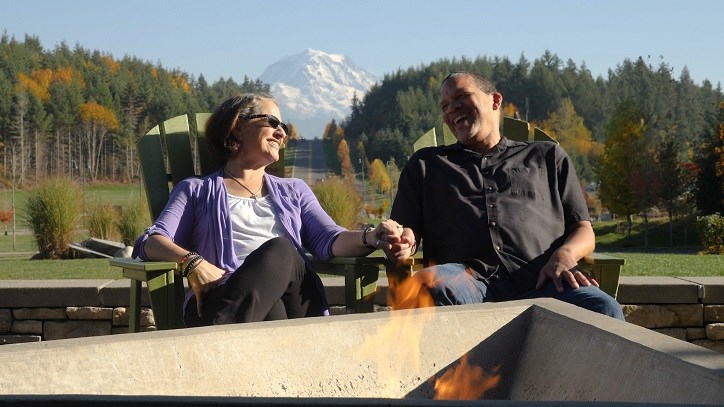 Multigenerational Families Thrive in Tehaleh
From homes designed with main-floor living in mind to large open floor plans, and a wide range of award-winning amenities, it's no surprise that multigenerational families have chosen to live together – or in close proximity to each other – in Tehaleh, the best-selling community of new single-family homes in Washington. A Pew Research Center study shows they aren't alone. A record one in five Americans live in a household with multiple generations.
Tehaleh Ambassador Sonja Rowland knew she wanted to live in Tehaleh when she first saw an article about the community in The Seattle Times. She loved the idea of buying a home by Lennar in the close-knit community. The surrounding nature and award-winning school were ideal for her ten-year-old granddaughter. The next step was convincing her husband Dennis to make the move. "He wasn't so sure about living in Bonney Lake," said Sonja. "We drove out on a beautiful day with our checklist and open minds." Then Dennis caught sight of Mount Rainier. "That's when I was sold," laughed Dennis.
The Rowlands became Ambassadors soon after moving to Tehaleh, and have been offering their frank advice and inspiring both current and potential residents with their enthusiasm for multigenerational living within Tehaleh. Sonja loves all of the resources available in the community, as well as the events and activities throughout the year. "Newland does an excellent job of finding ways to keep the neighborhood connected," said Sonja. "Because of this, my granddaughter's Girl Scout troop grew from 7 to 30 members in just one year."
Wondering what life is truly like in Tehaleh? Let us know, and we'll set you up with an Ambassador. Each Ambassador offers a unique perspective and can provide honest feedback on their builder experience, point you to the parks with the best views of Mount Rainier, and ease any worries you have about making new friends. Visit The Post today to learn more!
Want More Information?
Please click below to contact our team and we will be happy to answer any questions you have!
Contact Us
Categories