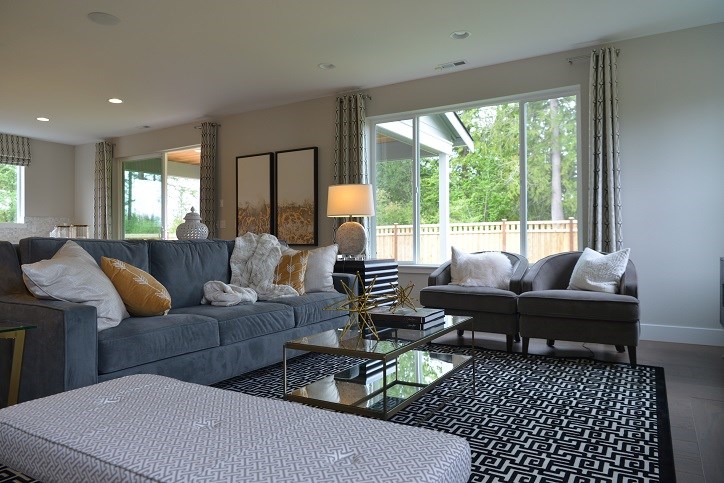 5 New Interior Design Trends to Try
As the chilly PNW weather makes staying in more fun than going out why not use this time to change up your décor? Whether it's bold patterns, retro flair or art deco pieces the future of interior design is bright enough to shake off the winter doldrums!

Geometric Patterns
Geometric patterns might seem a bit daunting but (when used correctly) are actually highly flexible, visually striking and in some cases, very functional. You can use them to bring vibrancy and life to an otherwise unremarkable space or add an elegant touch to your room by simply adding in a few geometric accessories. Graphic pillows help to add visual interest against a solid surface couch, try a geometric pattern as a dramatic window treatment or as a surprise pop in the form of an indoor/outdoor rug. If the thought of dabbling in patterns has your heart palpitating give a tone-on-tone print a try. The color scheme is subtle enough that you can use it on a large, accent wall while still adding interest to a smaller wall like in a bathroom.
Millennial Pink
A massive hit with the Instagram crowd, this trendy blush is once again taking center stage. We've already seen this distinct hue make its way into home decor and fashion but get ready to see this shade in even more creative and unique ways, like bold walls or interesting upholstery.

Mixing and Matching
Gone are the days of buying matching furniture collections. Instead, why don't you make your living room totally unique by mixing and matching various pieces from different periods, or your family heirlooms? Besides being charming and one-of-a-kind, it's always chic to show off your personal style.

Art Deco Accents
What goes around comes around, especially when it comes to design periods, and it's time for art deco to once again make the rounds. The style is playful and opulent yet classic.. Using the cleans lines of mid-century modern, art deco incorporates more glamorous materials and Egyptian patterns. Give your room an instant upgrade by adding in the flash of an art deco piece.

Bold Wall Colors
There's more to wall color than white or neutrals. If you've never been one to wallpaper you can still get a modern, of-the-moment look with a fresh coat of paint. Try a bold color on one feature wall and bring your room to life!

Are you interested in finding your perfect home? Stop by our Visitor Headquarters, The Post, or make an appointment to speak with one of our Tehaleh Ambassadors. They are all community residents ready to answer any questions you may have!
Want More Information?
Please click below to contact our team and we will be happy to answer any questions you have!
Contact Us
Categories