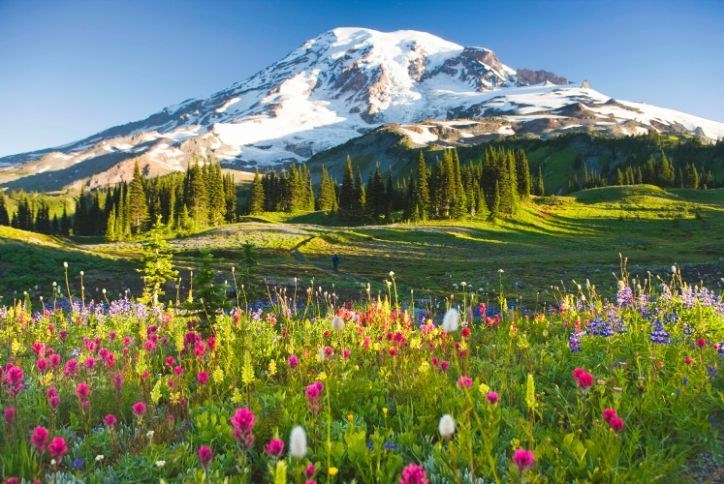 Why Tehaleh is Flourishing
As wild flowers bloom, bluebirds sing and Mount Rainier gloriously peeks out from behind fluffy, white clouds, spring and summer is prime time to check out Tehaleh's stunning display of natural beauty, affordable home prices and new floorplan options.

Something for Everyone
At Tehaleh, home buyers can choose from a quick, move-in ready home or experience the excitement of purchasing and customizing a new construction home from one of our eight renowned builders. Homes range from 1,370 sq. ft. to over 4,000 sq. ft. and start in the low $300Ks. With over 50 floorplans to choose from there truly is something for everyone.
Where Neighbors Become Friends
Tehaleh residents enjoy meeting and getting to know their neighbors. This is a community where people care. Neighbors check in on one another and giving back is a focus. Enjoy a cup of coffee at Caffé D'arte and take a hike on one of our fabulous trails. Once you discover the great home values, community amenities, friendly faces, and access to nature, you will be happy to have found Tehaleh!
Chat with an Ambassador
It is always nice to talk with someone able to answer your questions with first-hand knowledge. All of our Ambassadors live in Tehaleh and have their own, unique stories about this community. Ambassadors enjoy chatting about commuting, schools or just discussing what everyday life is like here. No matter the life-stage, we have an Ambassador to help you feel confident about purchasing a home in our community. Give us a call at 253.205.8190 and we will set you up with an Ambassador who can answer your Tehaleh specific questions.
Want More Information?
Please click below to contact our team and we will be happy to answer any questions you have!
Contact Us
Categories