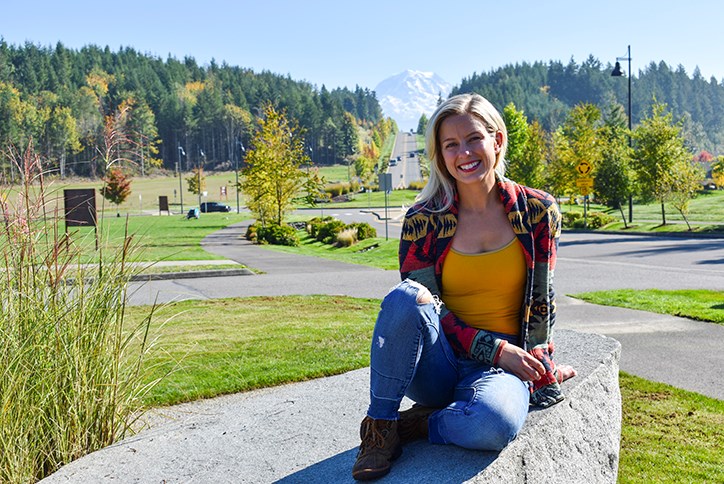 Tehaleh Makes Life a Little Easier
It's easy to understand why Jaclyn Hahn makes an excellent Tehaleh Ambassador. Searching for greener pastures, Jaclyn and her husband moved from Las Vegas, Nevada, to downtown Seattle and soon realized that City Life was not for them. They wanted to find a community where they could settle down and start a family. Finding Tehaleh on a leisurely weekend drive filled them with the hope of finding someplace just like it closer to their work. It took them over two years of searching to realize what they were looking for did not exist, and if they wanted to have the Tehaleh lifestyle they were drawn to, they had no other choice than to find a way to make it work, and they did. Jaclyn started her own business in Tehaleh while her husband found ways to make the commute acceptable.
Jaclyn was drawn to the small-town feel of Tehaleh, where connecting with others is natural. Her husband liked what he calls the resort feel, the beauty and calming effect it has on those who live here. Four years and two children later, there are no regrets. Jaclyn is excited to be a Tehaleh Ambassador; she loves being part of the community's pulse and sharing her knowledge and excitement with others.
When asked why she loves living in Tehaleh so much, she has genuine and quick responses. "What we have here won't be replicated. The friendships, the beauty, the feeling that everyone is watching after one another makes you want to live here forever." When asked if she fears growth in Tehaleh, she enthusiastically responds, "Oh no, we are excited about it. It's a great feeling knowing that amenities are coming to you instead of you having to find them elsewhere." As a Tehaleh Ambassador, who do you like talking to the most about the community? "I love talking to young families that are not from around here. We were new to Washington and the area, and finding Tehaleh was a dream come true. It's nice to reassure families they can stop looking and have found a place where they will be comfortable and happy."
What Jaclyn wants everyone to know about is what she refers to as her "Easy." "Tehaleh makes life a little easier. The beauty of the trails and parks are always so picturesque it feels clean and safe to be outdoors. It's easy to get around; the trails lead everywhere within the community to quickly visit friends and get coffee. Exploring is made easy in Tehaleh by having so many outdoor amenities to discover. The community makes hard times easier because neighbors are always ready to give you a hand. But to her, the most important thing is that living in Tehaleh makes being a parent much easier. With all the activities you could think of right outside your door and all the friends just ready to play, I can't imagine a better place for my children."   
Do you want to learn more about Tehaleh from a Tehaleh Ambassador?  Make an appointment today and the team at The Post will connect you with one of our knowledgeable Ambassadors.
Want More Information?
Please click below to contact our team and we will be happy to answer any questions you have!
Contact Us
Categories