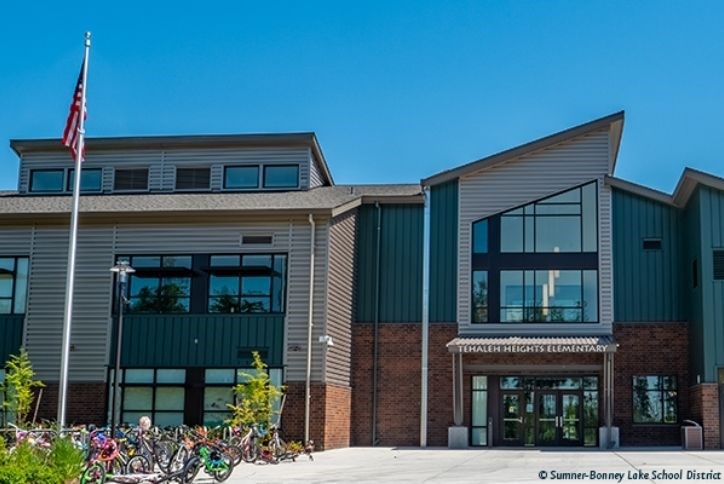 Tehaleh Heights Elementary School Wins Outstanding Design Award
Nestled inside Tehaleh, on a luscious 14-acres, sits the neighborhood's newest school, Tehaleh Heights Elementary School (or, T.H.E. as students and parents lovingly refer to it). Built with STEM education in mind, T.H.E. opened in Tehaleh in 2018. Gone are the days of boring and square classrooms, T.H.E. has redefined what education looks like. The school was designed with students and active learning in mind. This means that all of the community spaces are fully customizable to meet the needs of the students and groups who use them. Walk into the multipurpose room, health and fitness center, or the music platform, and you will see moveable walls, ergonomic furniture, and more, ready for students to learn! T.H.E. also features state of the art technology, hands-on learning, and indoor and outdoor facilities designed to spark students' love of learning from the moment they step foot inside the building.
For all of these reasons, it's no surprise that T.H.E. has been chosen as a finalist for Outstanding Design in the 2020 American School & University Architectural Portfolio. The publication, which boasts itself as "the premier showcase celebrating the best in education design," recently announced its finalists, including T.H.E. in the company of some of the nation's best educational facilities. Erickson McGovern, the school's architectural designer, worked alongside a team of teachers and administrators on the school's original design. Erickson McGovern was able to design a highly functional facility that met students' and teachers' needs. "The end product is not only beautiful and functional, but it is a magical learning tool in itself! Little surprises in every corner of the school spark curiosity and learning for our everyday scientists and engineers big and small!" Remarks T.H.E.'s principal, Sandy Miller.
Like everything in Tehaleh, the neighborhood elementary schools are filled with a strong and loving community of passionate educators, students, and parents. In fact, both T.H.E. and Donald Eismann (Tehaleh's first elementary school) are driven by academic excellence and community building. Teachers and administrators work diligently to make both schools a space where students feel welcomed and safe. Kids learn early that a school is a place for hard work, creativity, problem-solving, and of course, having fun. When children attend a Tehaleh school, they are getting a strong foundation to move forward in their education with strong critical thinking skills, motivation, and integrity.
Congratulations to Erickson McGovern and the Tehaleh Heights Elementary Advance Team on the recognition of Tehaleh Heights' innovative design. You have set the standard of 21st Century Schools!
Want More Information?
Please click below to contact our team and we will be happy to answer any questions you have!
Contact Us
Categories