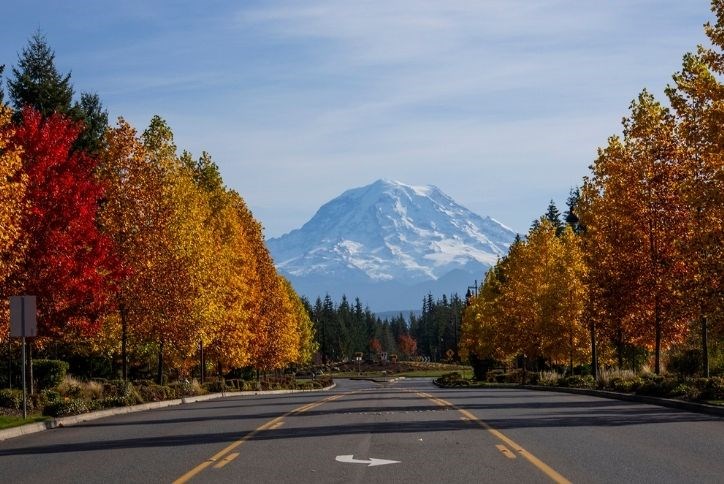 Fall In Love
At Tehaleh, "Fall In Love" has special meaning! While people everywhere seem intent on "Loving Where You Live," Tehaleh and its residents have set the gold standard.

Ask almost any resident about how they first fell in love with Tehaleh and they will all have a story to tell. Was it "Love at First Sight," or was it a process? Did the first trip down Cascadia Blvd, The Post beckoning in the foreground and the Olympics in the background, seal the deal? Or was it the trip up Cascadia Blvd, the majesty of Mt. Rainier in full view, framed by vibrant color that has regaled photographers from as far away as Portland just for a day's shooting?

The process of falling in love with the Tehaleh community usually consists of four separate stages. It lasts from the excitement stage to the talking in the driveway to your neighbors' stage. We know everyone is different and has reasons that make these stages varied, but many homeowners in Tehaleh will recognize the process.

Attraction
The beauty of Tehaleh is inspiring. To drive through the community for the first time has been known to bring butterflies and a fluttering feeling you get when you first discover something you want for yourself. Walking through the parks and waving at homeowners on the street sparks a desire that is hard to resist.

Dreaming and Planning
Affordability is one of the main reasons Tehaleh is the number one selling new-home community in Washington. Whether you are single, just starting a family, retiring or any place in between, dreaming and planning go hand in hand when sculpting your future.

Decision
Finding out you can purchase a home in Tehaleh is just the beginning. Choosing which floor plan and builder can be daunting but fun. Open floor plan or one-floor living, find your dream home. With nine builders to choose from, there will be a home that meets your needs. Enjoy the search.

Wholehearted Love
Joy! Tehaleh homeowners have gone through all the emotions that come with desire and uncertainty. Now they enjoy the lifestyle with parks, trails, entertainment events, and a friendly community where they can feel safe and cared for.
Come fall in love in Tehaleh.

Want More Information?
Please click below to contact our team and we will be happy to answer any questions you have!
Contact Us
Categories