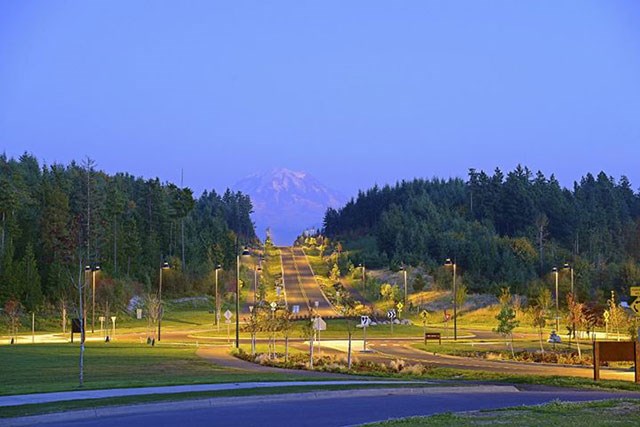 Tehaleh Grand Opening Kicks Off With $280,000 Home Giveaway
On September 29, six Washington residents will engage in a breakneck live race to win a free home in Tehaleh, the new 4,700-acre mixed-used community opening that day in Pierce County. The Grand Opening for Tehaleh, a community planned to include over 9,000 new homes, will feature elected officials, builders, and local residents along with Great Race Home Contestants vying for the new home in an Amazing Race-style live contest.
"For our family, winning this home would be a dream come true. Tehaleh is everything I've ever wanted since I was a little girl," said Tina Pogue, a contestant and small business owner in Puyallup. "I've always wanted to live out in the woods, but not feel like I live in the middle of nowhere. We would be thrilled to live in this beautiful community."
The grand prize winner will receive up to $280,000 to put toward a brand new home of their choice built by one of Tehaleh's five builders. The community was acquired by a joint venture partnership between North America Sekisui House, LLC (NASH)—the US business unit and full subsidiary of Sekisui House, Ltd, Japan's largest homebuilder and leading diversified developer—and Newland is the master developer of Tehaleh. Tehaleh is one of more than 30 assets the NASH-Newland partnership owns together across the country.
Tehaleh is planned to feature area schools, a fire station, more than 1,000 acres of parks and open space, an extensive network of trails, and a welcome center known as The Post that includes a new café component featuring Caffé D'Arte. Upon completion, Tehaleh is also planned to include a 419 acre employment center and 3.9 million square feet of commercial/retail space.
"This is a historic day for us," said Scott Jones, Vice President and General Manager of Newland. "We're very excited to give this home to a deserving Washington family, and we think that the proximity to nature and community connectedness Tehaleh has been designed to encourage will really make it someplace special."
The community's Grand Opening event, from 11 a.m. – 5 p.m. on September 29, will feature food trucks, live music, kids' activities, and a model home village with homes from all of Tehaleh's builders. The centerpiece of the day will be the Great Race Home at 1 p.m.
"The opening of this community is great news for our region, and the home giveaway is really the icing on the cake," said Tiffany Speir, Executive Director of Master Builders Association of Pierce County. "Having a national developer like Newland and their international partner NASH make this kind of commitment to Tehaleh sends a strong signal that home building in our region is on the upswing."
Since early September, contestants have been competing in four challenges to be one of the six final contenders to win the home on Grand Opening Day. During the Great Race Home, the finalists will compete in four hands-on challenges, and the first contestant whose team successfully completes all four challenges will win the free home.
Want More Information?
Please click below to contact our team and we will be happy to answer any questions you have!
Contact Us
Categories