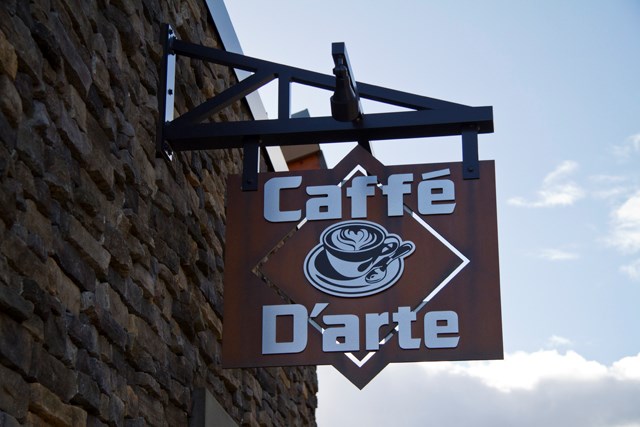 Spotlight: Caffe D'arte (Coffee as Community)
The heart of Tehaleh beats loudest and proudest at its amazing information center, The Post. And at the heart of this unique gathering place is Caffé D'arte, where coffee is just the beginning.
Founder, Mauro Cipolla, opened his flagship Caffé D'arte in Seattle in 1985, but his family's passion for coffee has been passed down for generations. His Italian heritage can be seen in every treasured step of the process, from selecting just the right coffee beans, to roasting and blending. Even the friendly nature of the baristas exemplifies traditional values and artisanship…virtues Mauro was taught early on.
"We didn't want a big name brand at The Post. We wanted to support a local brand that had the same care and commitment for the quality of their coffee as we have for creating community," Lynneah Hudson, Regional Marketing Director for Newland.
Caffé D'arte stands for the art of coffee, and can be skillfully seen in the foam art the baristas create by hand steaming the milk specially for each order. Stop by more than twice and they will probably already remember your name and favorite drinks.
Not a coffee drinker? No worries! There are plenty of specialty teas and juices to choose from. Kids get an extra special touch too, with mini-marshmallow hot chocolates or a surprise gummy worm in their Italian soda. Even the dog-friendly pup cups are topped with whipped cream. The pooch-friendly Caffé D'arte is a magnet for residents and visitors alike. "My eight-year-old daughter and I have what we call Wednesday Walks in the Woods, for the days when she has a late start at school. We'll take a walk on the Tehaleh trails to Caffé D'arte at The Post and have a cup of hot cocoa or a smoothie."
The café is located at the trailhead so residents can grab a latte or refreshment before or after a hike, then relax with the Mountain view and the warmth of friends, neighbors and Tehaleh's outdoor fireplace and warming hut.
Resident Lisa Peterson was substituting for the onsite elementary school, which is just across a beautiful green open space from The Post. One day she had some time to kill, so she stopped in for a coffee. "Originally, I came here for the lattes at Caffé D'arte, says Lisa, "But then it was like, wait! There's this incredible community here. I walked the gorgeous trails, I met the amazing people here, and I was hooked!"
There are countless stories of visitors following the Caffé D'arte signs along the forested roadways leading to Tehaleh, all in search of a delicious cup of coffee and beautiful view. One visit turns into a restful ritual after church or a hike on Tehaleh's more than 20 miles of trails, and later becomes a home and new community. A Tehaleh resident is born, sip by sip.


Want More Information?
Please click below to contact our team and we will be happy to answer any questions you have!
Contact Us
Categories