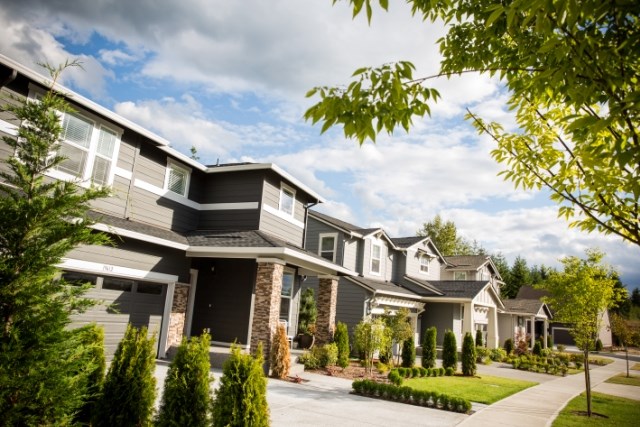 Tehaleh Sets the Pace for Real Estate Recovery in Puget Sound
As the region's best-selling community of new single-family homes, Tehaleh continues to outpace the 498 other communities and new home neighborhoods in King, Pierce, Snohomish and Thurston counties.
"People seem to gravitate toward this place," said Scott Jones, Vice President and General Manager for Newland. "Newland has been designing communities for over 40 years, and I think we've really hit it out of the park with Tehaleh. It just has this charm that doesn't seem to let go of people."
Since opening its doors, Tehaleh has set itself apart as a uniquely beautiful community with an emphasis on fostering a connection between neighbors and the outdoors.
"The entire design of Tehaleh, including the master plan, elementary school and live-work combination are a draw for homebuyers," said Todd Britsch, President of Metrostudy. "Plus you have fantastic builders in a community that people have been looking forward to for years."
As part of the Sumner School District, Tehaleh is also home to Donald Eismann Elementary School, a leading public primary school in the heart of the community serving 350 kindergarten through fifth grade students.
"For us, Tehaleh hit all the right notes," said Julie Orr, a new homeowner in the community. "Tehaleh combines everything about the Northwest that made me fall in love with the region in the first place. It's apart from the bustle of city life without being remote." Wildlife is right in your backyard, but you're never far from the perfect cup of coffee or a night on the town."
"Tehaleh has set the pace for real estate recovery in the Puget Sound," said John Burns, CEO of John Burns Real Estate Consulting, one of the nation's leading real estate experts. "My hat goes off to Newland. Their understanding of the market, combined with their years of experience, has brought together the elements that home buyers are looking for."
With the perfect balance of an inviting community and natural beauty and homes by some of the best builders around, Tehaleh is offering the optimal Northwest living experience buyers are looking for.


Want More Information?
Please click below to contact our team and we will be happy to answer any questions you have!
Contact Us
Categories