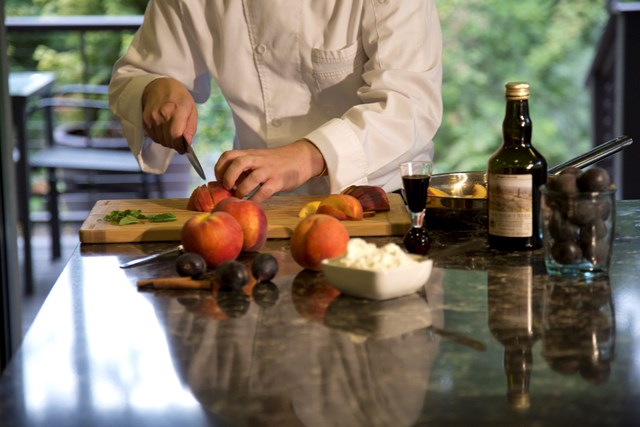 The Mantel at Seven Summits Lodge Offers Upscale Dining in a Comfortable Setting
With an impressive array of amenities from the connective trail system, and convenient parks, to the community gathering space with the cafe at The Post, Tehaleh has a lot to offer. Now with a new restaurant, once you're here, it will be hard to leave.

The Mantle culinary Ascent, located within the Seven Summits Lodge in Trilogy at Tehaleh opens this spring to all Tehaleh guests and residents. The name "The Mantel" is inspired by both the mountaineering technique and a reference to the seven distinct fireplace experiences at the Lodge.

Trilogy at Tehaleh resident Marilyn Thoms gave her impression of The Mantel after touring for the first time. "The restaurant dining experience will give guests the opportunity for fine dining or a more family-friendly casual experience with the wood-fire pizza."

The restaurant will provide an upscale dining experience using fresh ingredients to create casual yet sophisticated comfort food. The rustic dark wood and exposed beams emanate a warm and comfortable atmosphere while the friendly team members focus on superior service.

"The Mantel has a bar area that has a warm and informal feel where people can meet throughout the day and the restaurant invites you in with its booths around the fireplace," said Thoms. "The decor, the colors, and furnishings fit the overall atmosphere offering an  extremely comfortable place to dine or enjoy an evening with friends."

With seating for more than 50 guests both inside and out, The Mantel is the perfect place to dine and relax within the community.

"The outdoor dining patio looks super inviting and very nice. During the warmer weather guests will enjoy having a glass of wine while hearing music play on the event lawns," said Thoms.

Trilogy at Tehaleh launched the private Northwest-themed resort, Seven Summits Lodge in late 2015 for their active adult residents. Named after the seven iconic peaks of the Cascade Range, the Seven Summits Lodge has dedicated areas for relaxation, fitness, food, games and more.
Want More Information?
Please click below to contact our team and we will be happy to answer any questions you have!
Contact Us
Categories