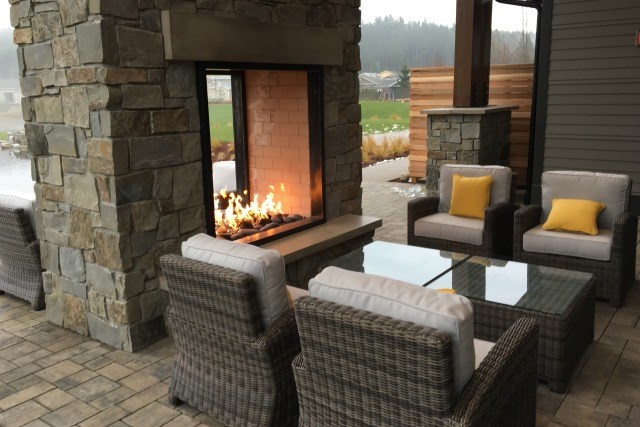 Trilogy at Tehaleh Opens Restaurant, The Mantel
Trilogy at Tehaleh will open, The Mantel culinary Ascent, located within the Seven Summits Lodge to all Tehaleh residents and guests in early spring. The name "The Mantel" is inspired by both the mountaineering technique and a reference to the seven distinct fireplace experiences at the Lodge. It will provide an upscale dining experience using fresh ingredients to create casual yet sophisticated comfort food. The rustic dark wood and exposed beams emanate a warm and comfortable atmosphere while the friendly team members focus on superior service. With seating for more than 50 guests both inside and out, The Mantel is the perfect place to dine and relax within the community.
Trilogy at Tehaleh resident Marilyn Thoms gave her impression after first visiting the Seven Summits Lodge and The Mantel. "People are going to be excited to sit in a relaxed environment, to have a glass of wine close to home. I love that the restaurant will be open to the larger community; I think this will make it a success. The fireplaces are amazing and create an atmosphere of warmth and coziness as well as an opportunity for people to gather and visit with each other. It really creates the atmosphere for a cohesive community."
Just off The Mantel is an ideal private space for those who like to entertain with friends and family. Hudson's Culinary Expedition can accommodate up to 30 guests for cooking classes and demonstrations to viewing parties for your favorite programs or sporting events. The space combines a showcase chef's kitchen with soft, comfortable seating and a large-screen high-definition TV, to create a private area for a unique retreat that is available by reservation.
Trilogy at Tehaleh launched the private Northwest-themed resort, Seven Summits Lodge in late 2015 for their Active Adult residents. Named after the seven iconic peaks of the Cascade Range, the Seven Summits Lodge has dedicated areas for relaxation, fitness, food, games and more.
Two Tides boasts expansive views of the lush surroundings, ideal for socializing, entertaining and swimming. The technology and innovation used in this space allows Two Tides to transform from an indoor lap pool to a meeting space in minutes, eliminating the need for two separate rooms.
"The swimming pool is gorgeous. It's very unique in how the floor raises up to become a shallow pool that is perfect for aquatic classes or raised fully to become  the ballroom. On nice days, the large doors open to the outside and in colder weather the large windows brings the outside in.  The pool can be seen from several areas of the Club, or can be closed off. It's versatile to meet the needs of everyone in the neighborhood," said Thoms.
The Hawk's Nest is a sports escape within the comfortable environs of the Lodge. This modern day "man-cave" features billiards, darts, large, flat screen TVs and a full-scale golf simulator with more than 200 golf courses across the world.
Four Suits is perfectly "suited" for a card-playing crowd with everything from cribbage to canasta, poker to pinochle. This area is designed specifically to enjoy a card game among friends.
Base Camp Athletic Club is a welcoming fitness experience, offering state-of-the-art equipment that links all machines together for real-time personal training or self-directed classes.
Flow Body & Mind is ready to release the inner artists or athletes within our community. For the artists, it's a well-stocked workshop designed for quilting, painting, and ceramics. And with a few quick changes, it can transform into an open workout space for group fitness classes or personal training. With large garage doors that can be opened to let in light and fresh air, along with the calming sound of the stream below, the studio will be an inspiring place to promote creative energy or burn off extra energy.
"The art room has a kiln!" Said Thoms. "It definitely feels like a room that you can do some serious hobbies in and it opens to the outside, like many of the rooms in the club it brings the outside in."
Seven Summits Lodge was thoughtfully designed with the Trilogy at Tehaleh resident in mind.  It's the kind of place that residents will want to show off to their friends and families.
"I've always said that I would never belong to a country club, but walking into the Lodge I thought to myself, I could get used to this. I can hang out here. It really does contribute to a resort feel, but in a comfortable setting that is very inviting and welcoming. In a community that is already cohesive it's going to bring people together even more," said Thoms.
For more information on both the Lodge and The Mantle, or how you can rent the facilities for events and weddings visit the Mantel website.


Want More Information?
Please click below to contact our team and we will be happy to answer any questions you have!
Contact Us
Categories