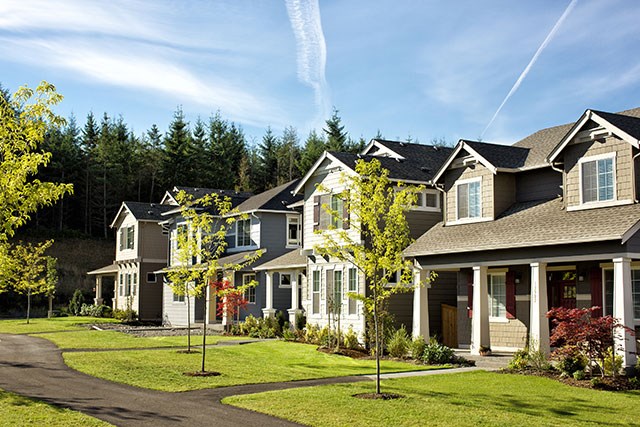 Heroes Find Home and a Strong Community at Tehaleh
Firefighter Brian and his wife Lisa have two daughters, ages 8 and 4.  When they moved into their Quadrant home they were surprised to learn that they were neighbors with other first responders. Tom Spoonemoore, a firefighter paramedic, lives just a few doors down with his wife, Leah, and their three month old daughter.
"Firefighters are one big family," says firefighter Brian Lamoureaux. "My family was looking for that same sense of camaraderie in a community, and we found it at Tehaleh."
Both Brian and Tom were motivated to move to Tehaleh because of the strong sense of community. "We felt it from the moment we entered The Post, visited with staff and heard about the thoughtful planning of the community. We were the first to live in our little area, so when new families have moved in, we've been excited to meet them," says Tom. "We found that in older neighborhoods, people have their routine and aren't interested in meeting new neighbors. At Tehaleh, everyone is new!"
Brian agrees, saying, "People who move to Tehaleh want the same things I want - kids barreling through the house, running through sprinklers and going over to a friend's house to play. If I need help on a house project, I can just wander over, ask a friend for help and get it done!"
Both families were attracted to the highly-rated Sumner School District and Donald Eismann Elementary, which is located right in the Tehaleh community. Brian's irregular schedule allows him to spend more time with his daughters, enjoying the Tehaleh community.
"My eight-year-old daughter and I have what we call Wednesday Walks in the Woods for the days when she has a late start at school. We'll take a walk on the Tehaleh trails to the Caffe D'arte at The Post and have a cup of hot cocoa or a smoothie. Both of my daughters love smoothies at The Post!"
As Puget Sound's top-selling new-home community, Tehaleh offers a premier Pacific Northwest living experience and a sense of community like no other. The community's eleven parks,30+ miles of trails, and stunning views of Mount Rainier facilitate an outdoor lifestyle, where neighbors meet and connect organically.
Tom's wife, Leah, also appreciates that The Post is just a short walk away. She often bundles up their new baby and meets up with a neighbor for coffee. Being new moms, they both enjoy getting out of the house and having a relaxing playdate. "It's their new mom support group," laughs Tom. 
Over the holidays, the firefighters and their families enjoyed the holiday party hosted by Tehaleh, as well as a neighborhood progressive party where they had appetizers at each house in their neighborhood. "We called it The 12 Houses of Christmas," said Brian. The neighbors have created their own Facebook page that they use to keep in touch and plan parties.
Brian has a lot of pride in their new home, "I'll always take advantage of community events because this is our community. In our last neighborhood, we didn't have that ownership. We didn't have sidewalks, cars drove through fast, and there wasn't a close connection. Here, we have good relationships with the neighbors and we're all looking out for each other. It breeds security."
Tom's favorite aspect of his new home is the feeling that he's away from everything, close to wildlife, trails and places to walk, without having to worry about traffic. "But we're not isolated," he says. "We're close to everything we need, creating friendships with neighbors and maintaining a community."
Brian and Tom encourage their fellow firefighters to look into the Tehaleh community. "I tell them to get down here any way you can!" says Brian excitedly. "It's close to the outdoors, there's a stunning mountain view, and your family will love it! We've got firefighters, emergency room doctors and nurses. We're a group of people who share the same values and want to build a strong community."
Want More Information?
Please click below to contact our team and we will be happy to answer any questions you have!
Contact Us
Categories