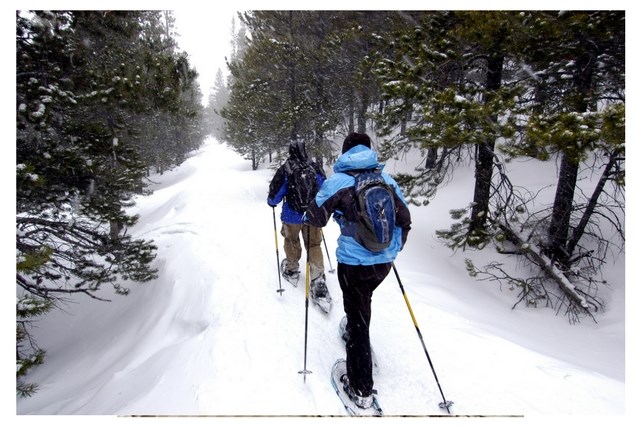 It's a winter wonderland at Tehaleh.
While Tehaleh offers fun activities throughout the year, some people simply live for winter. A landscape covered with pristine-white, powdery snow opens up all kinds of new ways to play.
 
Snowshoe Hiking
Snow outside doesn't mean you have to be stuck inside. You can get a great workout with snowshoe hiking—a fun, wintry twist on the typical warm-weather hike. Snowshoeing burns more calories than walking, running, or cross-country skiing. Check out these favorite trails suggested by the Washington Trail Association:
 
Downhill skiing
Can you say "day trip"? Tehaleh is conveniently located by many of the area's finest slopes, making it easy for skiers to enjoy frequent day trips. You'll be home in time for a late dinner!

Crystal Mountain
The largest, highest lift-serviced ski resort in Washington is located on the northeast edge of Mt. Rainier National Park and covers 2,600 acres with 50 named runs.

White Pass
Within the vistas of Mt. Rainier, White Pass is the perfect destination for skiers of every skill level. The Great White Express beckons experienced skiers, and Paradise Basin, the Couloir Express, and Basin Quads offer opportunities for adrenaline-filled fun. Halfway up the mountain, The High Camp is the perfect midway meeting point for lunch, a cup of hot chocolate, or an afternoon beer.

The Summit
What are you ready for? High-speed expert runs? Gentle learning areas? Benchmark parks? At the Summit, you can challenge your abilities, no matter what your experience. Four base areas offer a wide diversity of skiing runs close to home! With runs open until 10 p.m., be sure to try the thrills of night skiing!

Ice Skating
You don't have to master Olympic-level triple jumps to have fun ice skating. It's a sport that the entire family can enjoy.
Sprinker Center Ice Arena
Sprinker Center Ice Arena is one of the most progressive centers in the country. The facility hosts everyone from recreational skaters to athletes training for international competition. Bring the family or the scout troop for an invigorating afternoon of gliding along the ice.

Franciscan Polar Plaza
Skating outdoors under the sparkling lights of Rockefeller Center is the ultimate holiday experience—if you live in New York City. Enjoy the same sensations just a little closer to home at downtown Tacoma's Franciscan Polar Plaza. At this seasonal outdoor rink, created in partnership with the Tacoma Art Museum, you'll enjoy music, special holiday events, and more from November through January.

Winter Roads
With the burst of autumn color dissolving into the stark beauty of winter, driving on Washington's open roads is a beautiful way to discover our state's beauty from the cozy warmth of your car. Of course, take the weather into account, and don't hit the roads when a storm is approaching.

Explore the scenic byways

Cross-Country Skiing
Not all skiing has to fall into the adrenaline-rush-let's-fly-down-a-mountain category. Cross-country skiing is a low-impact, high-cardio, total-body workout. You can choose from unimproved terrain to groomed courses specifically designed for cross-country skiing. Tehaleh residents enjoy several popular destinations for cross-country skiing.
Want More Information?
Please click below to contact our team and we will be happy to answer any questions you have!
Contact Us
Categories