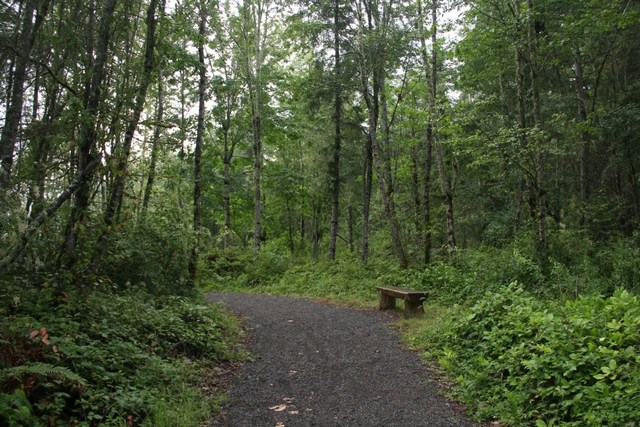 When Out On A Limb, Tehaleh Neighbors Come To The Rescue
It's like a scene from a Norman Rockwell painting: the "neighborly neighborhood," where people help each other out, whether by offering a cup of sugar or buying lemonade at the kid's stand next door. And when a cat gets stuck up a tree, the neighbors lend a ladder and help find the owner.
It all started on a Friday morning in June. Tehaleh resident Ashley Wilson-Hemphill had just dropped her daughter off at Donald Eismann Elementary, and she decided to walk home on one of Tehaleh's lush trails. Up ahead, she saw a mother and son staring up at a tree, listening to quite a ruckus. "Crows were cawing—it was loud!" remembered Wilson-Hemphill. She took a closer look, and spotted a cat high in a tree, meowing for help. "The cat was frozen on a limb, stiff and scared to death," recalled Wilson-Hemphill, an animal lover and cat owner herself. "We tried calling to her to get her to come down, but she wasn't going anywhere."
Wilson-Hemphill knew the cat's owners would be worried, so she posted a message, along with a few photos, on the Tehaleh Community Facebook page that read, "Found a kitty stuck up, high in a tree, on the trails; not sure how long it's has been up there." Within minutes, she received responses from neighbors asking how they could help. "My friend, Stacy, who lives a few houses up, volunteered her giant ladder." Then another friend jumped in to help out. "Christina, who owns pet-sitting business, volunteered to put the ladder in her truck and drive over with me." When they got back to the tree, Wilson-Hemphill scaled the ladder, as neighbors cheered her on, and retrieved the scared kitty. "The kitty just clung to me, she was so relieved."
After securing the cat in a carrier, Wilson-Hemphill hoped the owners would claim the kitty on Facebook. When they hadn't responded overnight, she took the cat to the local animal hospital where it was scanned for a microchip. Luckily, the cat was registered in the system, and was promptly returned to her owners, a family that had recently moved into Tehaleh.
This little slice of life - neighbors banding together to rescue a cat from a tree - shows just how deep the sense of community runs with the residents of Tehaleh. Neighbors banded together in support, even those celebrating the reunion virtually. With the kitty safe and sound in her Tehaleh home, a fellow resident summed up the day's events in a comment on the Facebook post, "This community is the best!"
Those looking for a pet-friendly, welcoming neighborhood can choose from a wide range of floor plans designed for every family size and lifestyle. Start your search now.
Want More Information?
Please click below to contact our team and we will be happy to answer any questions you have!
Contact Us
Categories