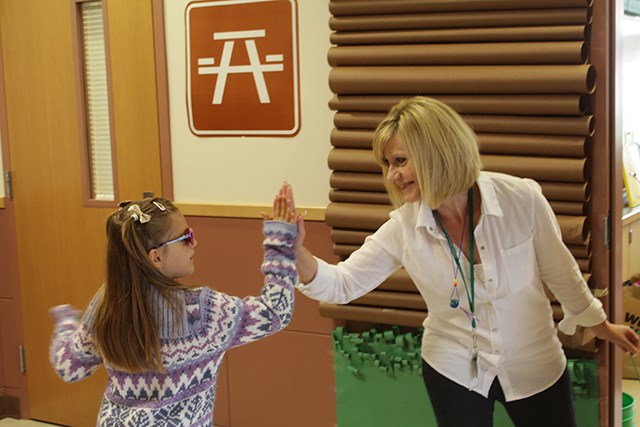 Innovative Teacher Inspires Learning at Tehaleh Elementary School
A favorite local teacher has been wowing students with nature walks on the popular Tehaleh trails. "We don't even have to hop into a school bus to enjoy nature, we just step outside," says Erin Rumpza, or "Mrs. R," a beloved teacher at Donald Eismann Elementary. "My students love getting outside and discovering new things, and the Tehaleh trails are the perfect setting for that."
Mrs. R. brings a fast-paced, engaging style to her first grade classroom—a method that keeps the kids on their toes. "I like to make learning fun and energetic," she said. "A teacher's job is to make everything creative and interesting."
Due in great part to the dedication and innovation of the teachers like Erin Rumpza, Tehaleh's award-winning on-site public school, Donald Eismann Elementary, has been recognized by Washington State for excellence in student achievement.
When school is out in the summer, Rumpza goes the extra mile by tutoring students from The Post at Tehaleh and the Bonney Lake Library. Her tutoring program is built around students who need extra support, preparing them for the upcoming school year. "In first grade, kids are learning to read, so we want to get the foundations really locked in."
Rumpza commands attention in her classroom by clapping, singing, even whispering. "I make up a lot of songs on the fly. Changing it up helps the kids stay alert." To ensure she has the full attention of the class, Rumpza uses catchy techniques including call-and-response games. "When I want the kids to transition to their seats, I count '3, 2, 1…' The students make it into a game where they try to beat their previous time."
Education has been a lifelong passion for Rumpza. In high school, she began helping other students with their homework. While in college, she worked at a preschool, and received her Bachelor of Arts in Child and Family Studies. When her two sons were preschool aged, she became a co-teacher at their school. Then, when her two boys went off to college, Rumpza decided to get her Masters in teaching. 
In her spare time, Rumpza likes to read, visit with family, and walk her dog, a Husky/German Shepard mix. She also recently traveled to Italy, which gave her wonderful perspective before starting this new school year. "I just like to take it all in, watch people, and really enjoy life!"
Want More Information?
Please click below to contact our team and we will be happy to answer any questions you have!
Contact Us
Categories