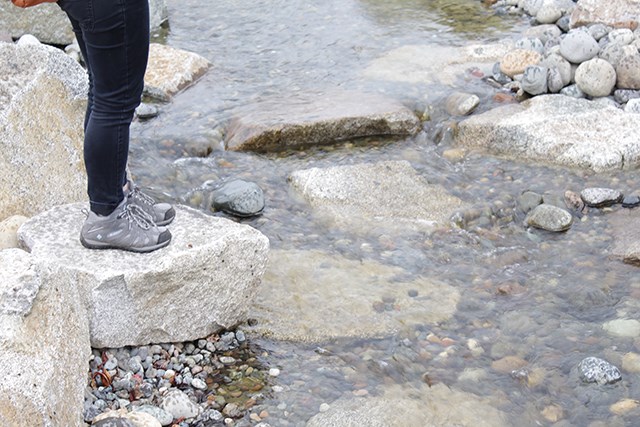 Conservation is a Community Value in Tehaleh
Tehaleh is well-known for its miles of trails, gorgeous mountain views and natural greenbelt – but, these aren't the only connections the community has to the environment. Below the surface, the community's environmental integration extends all the way to Tehaleh's water, dirt, and gravel.
Newland has carefully implemented environmental standards for the community that are not only cost effective but ecologically sound. "Environmental sustainability was always the intention for Tehaleh, from the get-go," said Newland's Senior Project Manager, Thomas Uren.
Water conservation is of utmost importance at Tehaleh, and that begins with storm water management that infiltrates all runoff from the community to replenish aquifers and support flows in the Carbon and Puyallup Rivers. In addition, a new treatment plant is being built at the far west section of Tehaleh.  "We're constructing a state-of-the-art wastewater treatment plant that will produce Class A reclaimed water, the highest standard in Washington," said Uren. "The highly treated effluent will be reused for irrigation, commercial businesses and for infiltration, to reduce demands on municipal water supplies." While it's common for a city to have its own wastewater treatment plant, it is rare for a master planned community. "The size of the community plan, in area and population, made these sustainability projects a priority. Not a drop of water leaves Tehaleh."
Tehaleh also minimizes the transportation impacts of large trucks hauling dirt and gravel to the community by sourcing the materials from within Tehaleh. In addition, the community produces its own topsoil. The soil is removed from developed areas, screened to remove stones and twigs, and is then mixed with sand and mulch , and the finished product is used in parks and landscaping.
The positive impacts from these sustainability measures can be enjoyed by residents without even knowing it. "As engineers, contractors, and managers, we like to roll up our sleeves and get things done," said Uren. "Getting to do them in a green manner is the icing on the cake."
Want More Information?
Please click below to contact our team and we will be happy to answer any questions you have!
Contact Us
Categories