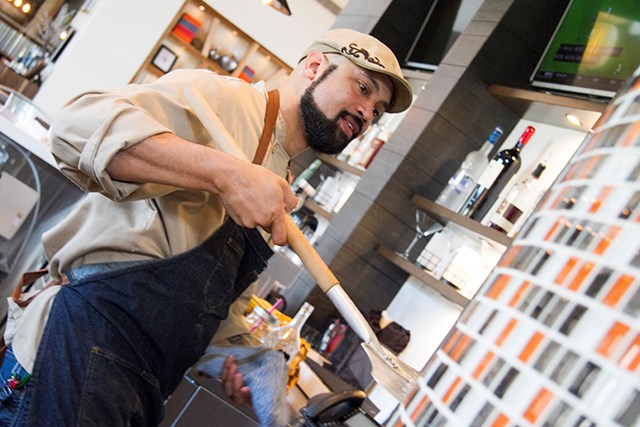 The Man Behind The Mantel
The Mantel restaurant, set within the 55+ Seven Summits Lodge at Tehaleh, is a relaxed, neighborhood establishment where guests can enjoy delicious drinks, locally sourced food, and fun among friends.
The man responsible for the community spirit and ever-changing menu is Chef Nathaniel "Nate" Cooper. His passion for great food shows in every dish he prepares.
Nate started working in the restaurant industry at the age of 14. After high school, he attended the prestigious California Culinary Academy, now known as Le Cordon Bleu. His impressive culinary pedigree includes internships with high profile chefs like Jean George and esteemed restaurants including the Atlanta Fish House, the sous chef position at 5th Floor restaurant (now known as Dirty Habit) in San Francisco, and worked alongside Richard Reddington at Redd in Napa. He even ran a restaurant between 2014 and 2015.
Nate came aboard in February 2016 and can most often be seen running around the kitchen. His food amplifies the gorgeous atmosphere of The Mantel's rustic dark wood and exposed beams. "I have a simple point of view—clean food with simple and light ingredients," says Nate. "Let the food speak for itself."
Nate describes his approach as modernized comfortable. "With simple plating, I deconstruct signature dishes while elevating them to a new level," he explains. Nate strives to simplify the execution of the menu while never taking away from the flavors or the beauty of the dish's design. "It may not look the same, but the same flavors are there, just elevated."
Regular patrons of The Mantel can always expect something new. "We change out the entire menu quarterly to reflect the seasons," says Nate. "With warmer weather, we tend to grill more."
Nate has made a big commitment to using only seasonal, sustainable ingredients local to Washington or the West Coast, expanding and refining the menu since he took over The Mantel. He has introduced pizza nights on Saturday and family-style specials on Sunday. Foodies will also appreciate his wine dinner. "The wine dinners are a time to play with new and different ingredients," says Nate. "The regulars trust me and will try almost anything new now!"
His goal is to be here a while. "I've not only evolved the food of the Mantel, I've also evolved. I dove in head-first with this restaurant!"
As the community grows, The Mantel is available not only to residents of Trilogy and Tehaleh but to the greater community as well. Guests of the restaurant are welcome to enjoy The Mantel and its adjacent patio seating. The remainder of Seven Summits Lodge is reserved for members and their invited guests only.

Want More Information?
Please click below to contact our team and we will be happy to answer any questions you have!
Contact Us
Categories